Steens offers a wide range of high-quality beds for children of all ages. With comfort a top priority, Steens is a brand that you can trust. Providing beds that grow with your children. The beds are also available with a great selection of fun accessories.
Choosing a bed for your child can prove tricky with so many options to consider. Whatever you require, you can expect fashionable styles with Steens that kids will love. Whether you want a bed you can easily convert for flexibility as youngsters grow or one that complements the particular style of your child's room, Steens offers you the complete bedroom set.
High-quality materials are standard with Steens beds, so you can expect furniture that is built to last. Using FSC-certified wood and conforming to relevant safety standards, these are products you have complete confidence in.
Steens for Kids Natural Beds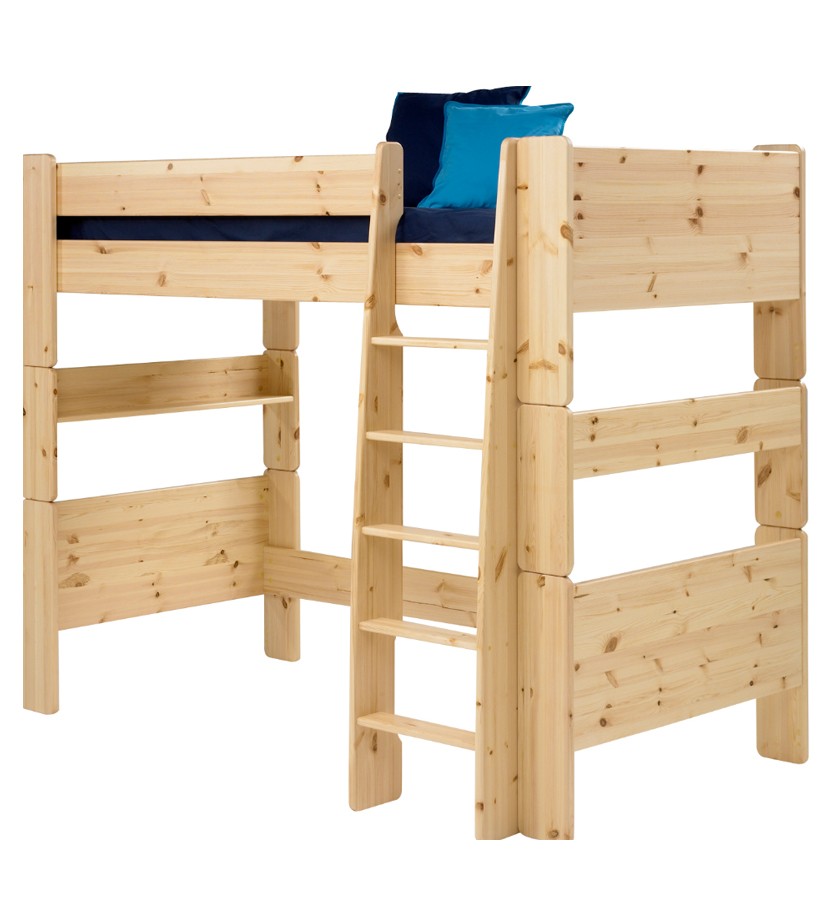 A natural wood finish blends in superbly to any child's bedroom, so choosing this style of bed makes great sense. The Steens For Kids Single Bed in Natural Lacquer is made from attractive solid pine with a stylish natural lacquered finish. A low sleeper bed is ideal for small children as it's closer to the floor.
For older children in particular, the Steens High Sleeper Bed is a brilliant choice. Made from solid pine, the bed comes with handy space underneath for storing items or for use as a play area. This Steens for kids natural highsleeper has a convenient sturdy ladder for easy access to the bed.
More stylish than your average bunk bed, the Steens High Sleeper and Single Bed is perfect if you need beds for two children. Unlike standard bunk beds, the bottom single bed faces outwards, so you can still take advantage of storage space under the top bed. Attractive solid pine makes this high sleeper and single bed a stylish addition to any children's bedroom.
Steens for Kids White Beds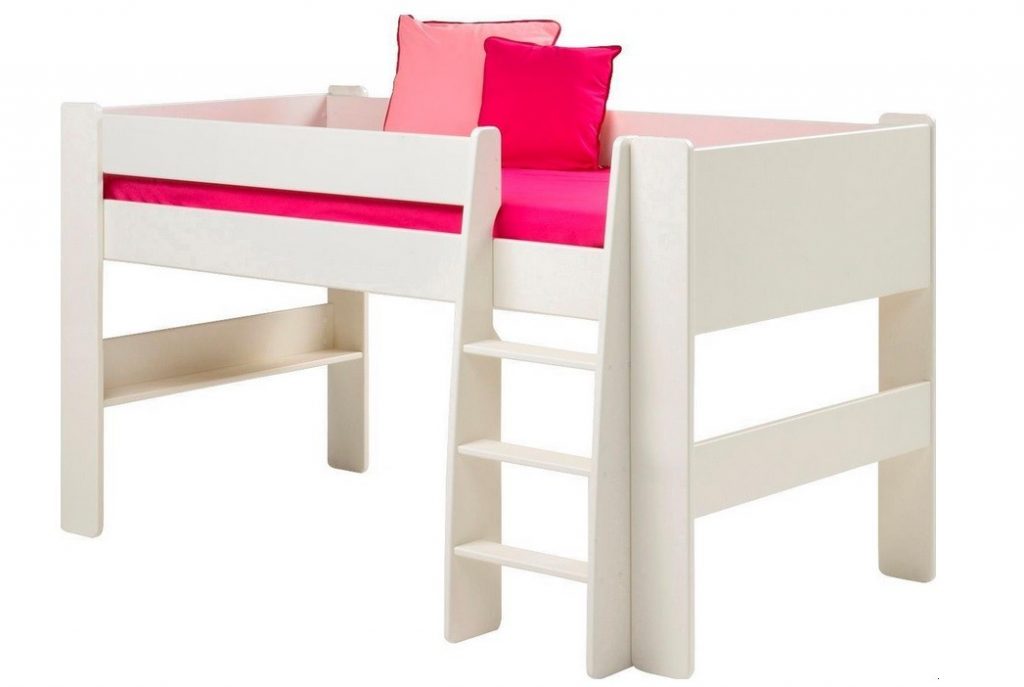 White is a clean, attractive and contemporary colour for a child's bedroom, and even as their tastes and fashions change over time, a white bed won't ever fall out of favour.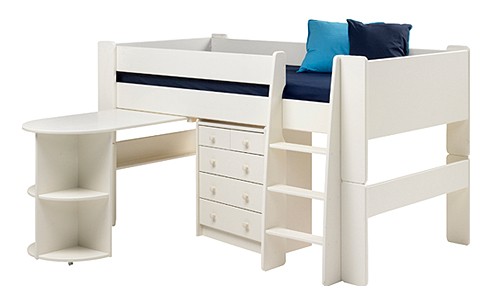 The Steens Memphis Midsleeper comes with a sturdy integrated ladder for easy climbing to the bed. Although the bed is a mid sleeper, the area underneath is still big enough to be usable for storage or as a play area or den. Made with a solid MDF frame and white finish, this eye-catching bed is also easy to assemble.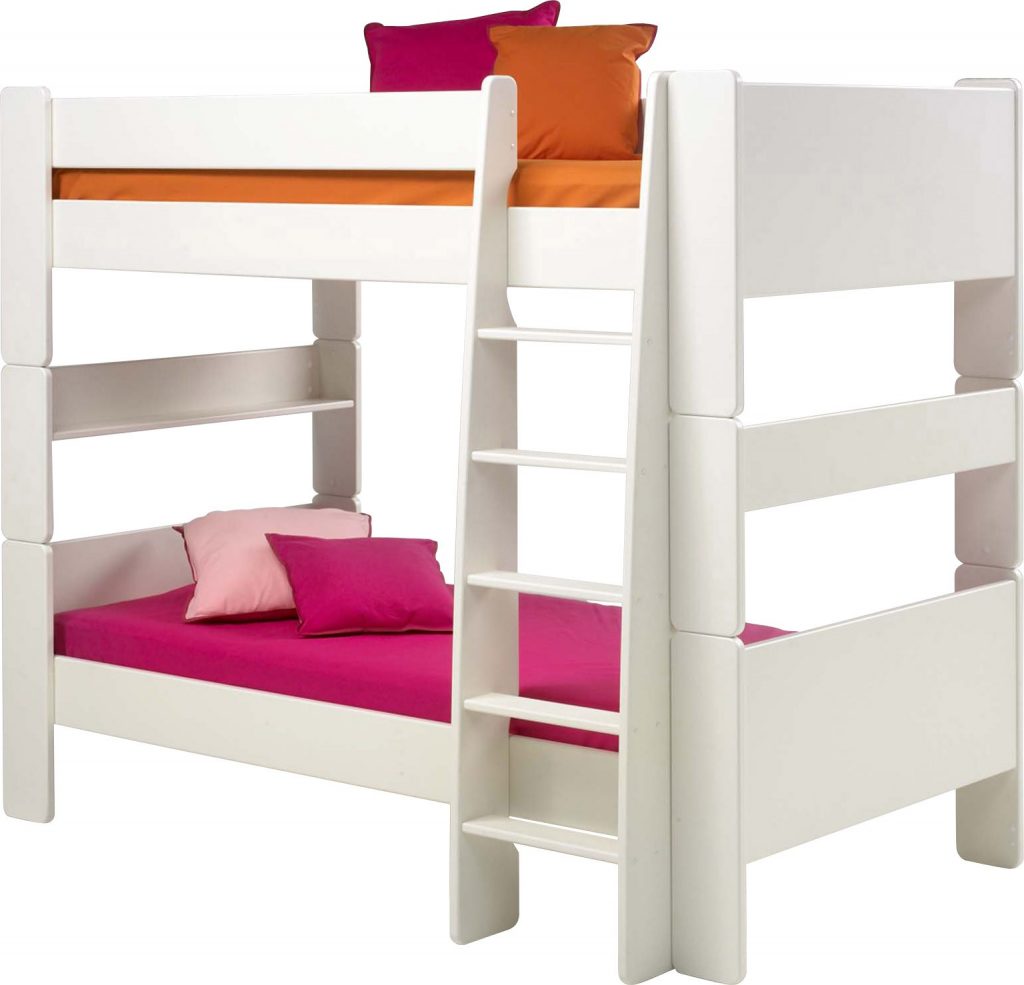 If you're looking for a stylish bunk bed that offers fantastic durability, the Steens For Kids Bunk Bed in Solid Plain White is a perfect choice. Made from durable MDF materials in a contemporary white finish, this bed will blend into any bedroom for two youngsters. A sturdy step ladder ensures easy access to this solid bed.
Conversion Kits
A Steens bed conversion kit is a convenient and cost-effective way to transform a bed as your child grows, without needing to buy a completely new bed. The Steens Midsleeper Conversion Kit comes with all the wooden parts you need to turn a single bed into a midsleeper. It's easy to transform, and you also have three colour options to choose from.
If your child wants to extend their single bed even further off the ground, the Steens For Kids High Sleeper Conversion Kit is the ideal choice. With three colour options, converting the bed lets your child enjoy the space underneath it for playing. High-quality parts ensure this bed will be enjoyed for many years to come.
If you already have two single beds and your children like the idea of having bunk beds, this can easily be achieved with the Steens Bunk Bed Conversion Kit. It's also a good choice if you need to save space in a room. The additional bonus feature about this kit is that you can add fun accessories to it for those children who have a sense of adventure.
Pocket Tidy





Easy to attach to the side of a bed, a pocket tidy is a convenient and cost-effective way to keep things organised and neat in your child's bedroom.
Available in pink or blue, the handy Steens For Kids Pocket Tidy makes a practical and stylish bed accessory which children will love.
Suitable for attachment to any Steens Midsleeper, Highsleeper or Bunk Bed, the colourful pocket tidy comes with ample space for storing toys, pencils, books or other items.
Tunnel




Who says beds are just for sleeping? Although Steens beds for children put the emphasis on a great night's sleep, they are also designed with fun in mind.
Perfect for use with a Steens For Kids Midsleeper, Highsleeper or Bunk Bed, the tunnel in pink or blue fits snugly over the bed frame to cover the bed.
Ideal for fun games, or even for use at night, the tunnel will prove highly popular with any child.
Tent



If you've got a Steens For Kids Midsleeper bed, it is crying out for a tent accessory. Youngsters will simply adore the tent that can be easily attached to the frame to enclose the area underneath the bed.
This fun fabric accessory in bold designs, colours and themes, such as a circus or knight's tent, makes the perfect den or hide-away and will stir up the imagination of any child.
This vibrant tent also perfectly complements the tunnel and pocket tidy and ensures hours of play.
Slide



Bring the playground to your child's bedroom with a fun slide that every child will adore.
The Steens for kids natural or white slide is easy to fit with the Steens For Kids Midsleeper, this solid white slide can be used to access the bed as well as the ladder. Made from sturdy materials, the slide will bring hours of fun to any youngster's bedroom.
As a leading manufacturer of bedroom sets for youngsters, Steens offers something for every child, no matter what their age. Come and have a look at our great range of Steens beds and accessories, and complement it with a new mattress or additional bedroom furniture to bring contemporary style to your child's bedroom.