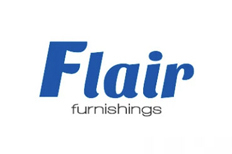 Flair Furnishings offer a fantastic selection of children's beds with space saving in mind. Flair Furnishings has sourced an exclusive range of high quality children's beds, for any child's bedroom, and which have been designed with ample storage and safety in mind. All of Flair Furnishings products are designed with practicality and safety in mind to ensure customer satisfaction.

At Childrens Bed Shop, we offer a great range of Flair Furnishings childrens beds, all in child friendly sizes and designs. From midsleeper, cabin beds, high sleeper beds to Flair Flick bunk beds and teepee beds, all of Flair beds have generous, deep steps, which makes climbing into bed safe and easy.

Children's high sleeper beds and cool bunk beds have shelves, cupboards, and pull out desks incorporated into the designs which utilise the space available and are multi-functional. Their clean and simplistic design allow for children to personalise their bed through decorating the shelves with toys, ornaments, and books to really make it their own personal space to enjoy.

If you have any further questions about Flair Furnishings beds, then please don't hesitate to contact us where one of our friendly representatives will be more than happy to help with any questions.