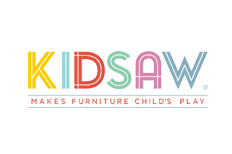 Here at Childrens Bed Shop, we are proud to bring you the fantastic range of childrens bedroom furniture, from the superb brand, Kidsaw. Kidsaw bedroom furniture is without a doubt innovative, creative and fun! Everything that a child wants for their bedroom: funky furniture that will make bedtime fun.
Kidsaw is a pioneering manufacturer of childrens bedroom furniture who has changed the way adults think about self-assembly furniture. Kidsaw set about creating a new type of kid's furniture, with the essence of their newly established ideas being to provide easy to assemble, yet fashion forward products that were funky and desired by all kids. This certainly was to be the case. Years later, Kidsaw is now a leading childrens furniture provider for kids of today, and Childrens Bed Shop is proud to showcase their complete range.
Kidsaw has developed a series of self-assembly furniture ranges that are actually fun to put together. This totally new concept of childrens furniture is the brainchild of Jason and Matthew Leech, who pride themselves on developing cleverly designed furniture that can be put together using a simple, jig-saw technique that does away with the need for glues and tools. All panels easily slot together, making the end piece of furniture just as strong and durable as any traditionally constructed furniture. 
This amazingly easy and effective technique makes Kidsaw Furniture an eye-catching and fun range of furniture for kids and with various styles and designs from Kidsaw Racing Car Beds to JCB Digger Beds and armchairs to to tables & chairs, you are sure to find perfect furniture for your youngster's bedroom. Kidsaw are always working on new designs, and here at Childrens Bed Shop we will strive to bring them to you at unbeatable prices and with a great delivery service to the UK Mainland.
If you have any further questions about Kidsaw, jigsaw-puzzle childrens furniture, then please don't hesitate to contact us where one of our friendly representatives will be more than happy to help with any questions.