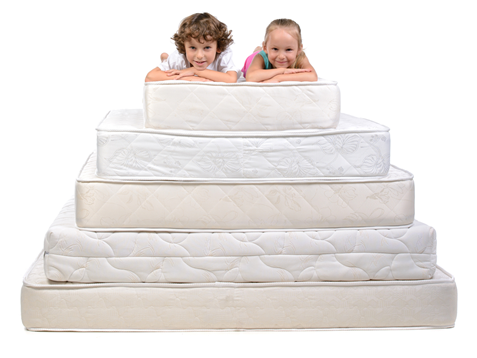 The importance of finding the right mattress for your child can't be overstated. A well-suited mattress can play a crucial role in determining the quality of your child's sleep. And, as has been demonstrated in countless clinical trials and books, sleep is incredibly important: a poor night's sleep hampers concentration, memory and mood.  
There are, however, a dizzying number of things to consider before settling on a mattress. Size, firmness, and weight are just three of many things to take into account and, even after giving all of these factors commensurate thought, it can be tremendously difficult to arrive at a decision you have 100% confidence in. To help you pick the perfect mattress, we've put together this guide. 
How do I choose a kids mattress? 
While our intuition tells us we're more likely to sleep well on a soft, fluffy mattress than a concrete floor, there isn't a massive body of evidence that supports that assertion. Studies into the effect of mattresses have struggled to secure the independent funding that is required to produce data robust enough to stand up to scientific scrutiny.  
Should a child sleep on a firm mattress? 
However, an independently funded, peer-reviewed 2011 Sleep to Live study that investigated the impact of mattress firmness on sleep found that the optimal mattress firmness differs from person to person. The results serve to underline the importance of taking the time to try out a mattress for as long as possible before making a decision.  
Size
Picking the right size mattress can be tricky. Ideally, you'd want to pick a mattress that is big enough to accommodate for your child's growth as they get older. But, you don't want the mattress to occupy too much space in their room if they aren't going to really need that a mattress of that size for a few years. Finding the balance between the two is key to selecting the right children's single mattress.
Support 
Mattresses need to be ergonomically designed to properly support your child's frame as they grow. If you go for a mattress that is ill-suited to their needs, you run the risk of your child's posture being detrimentally affected over time. A good signifier of a mattress that suits their frame is one where as much of their body as possible is in contact with the mattress at all times. This is likely to reduce the chance of any pain/soreness developing from sleeping in an awkward position for hours overnight. 
Safety 
In addition to thinking about size, support and any additional health considerations (like allergies), there are certain safety requirements for bunks and cabin beds. Each structure is only able to support a specific weight and being aware of this is essential for every customer looking into a potential mattress. 
Children's mattresses are crucial in determining your child's quality of sleep. It is, however, important to note that factors like diet, lifestyle and even watching too much TV or spending too much time on the computer before bed are just as pivotal in affecting your child's sleep.