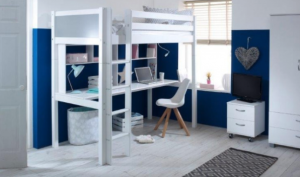 The start of a new term is an exciting time for children and after the slow pace of the holidays, it can also be a tiring one. Getting a good night's sleep is key to a child's development; studies have shown that it aids their ability to concentrate and learn, as well as improving their behaviour and overall mental health. Deep sleep is essential for the body's repair and growth.
Having a regular and predictable wind-down routine promotes healthy sleep patterns. For young children having a bath, dimming the lights and having a story can help them feel ready to sleep, while for older children switching off screens an hour before bedtime and reading a book relaxes them and encourages rest.
Due to the pandemic, most children will also have been out of school for many months and will need encouragement to get back into the habit of studying. Providing children with their own space to study can assist with concentration.
At Children's Bed Shop we have a range of beds that are both truly comfortable and are cleverly designed with space to study.
Cabin bed with desk
For younger children, one option is the space-saving cabin bed with desk, complete with bookshelves; perfect for sleep and study. The cabin bed also has the option to add a tent underneath making it a fun den during the day.
High sleeper with desk
The high sleeper with desk range is ideal for creating more study space; with the bed raised higher there is more space for the desk and practical storage below.
The Flexa Nordic High Sleeper can be turned into a single bed in the future, making it a good long-term investment. Contemporary in design, it comes in a range of finishes from solid white, to grey or rose, slatted or tongue and groove. The Flexa range is free from formaldehyde, solvents and any toxic colourants, hardwearing and robust.
The Stompa Casa High Sleeper Bed includes a desk and bookshelves but also boasts a pull-out sofa bed, which has neatly designed hidden storage for guest bedding; an excellent choice for older children who like having their friends to stay over. The Parisot Higher High Sleeper includes a wardrobe with hanging space for ample bedroom storage, cleverly utilising the space underneath the bed.
Children's chair and desk
We have a number of children's chair and desk options, perfect for little children who enjoy creative play. Designed to fit together like a jigsaw, the assembly is quick, easy and you don't need to bother with glue or screws.
The range comes with shelves and blackboard painted areas for extra creativity. The range comes in grey, blue or pink with star detail for a contemporary feel. There is even a desk and chair designed to look like a JCB, perfect for little ones obsessed with trucks and diggers.