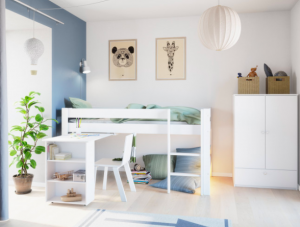 New year, new furniture? OK, perhaps not a complete home renovation makeover is on the cards but you can certainly bring some order into your life this new year with a new Steens Mid Sleeper bed, the perfect mix of style, comfort and practicality.
About Steens bedroom furniture
Steens bedroom furniture consists of a range of home furnishings from storage collections to beds. We pride ourselves on offering attractive yet practical furniture to fit in with modern life and thus embracing our need for space, quality and durability. Our Steens Galaxy Midsleeper is just one example of our kids' range and offers a space-saving solution without compromising on comfort, offering a whole footprint of under bed storage for toys, clothes, books, schoolwork and much more.
Benefits of the Steens Mid Sleeper bed for your child
Our Steens Mid Sleeper is a very wise choice for your growing child's bedroom as it adapts to their ever-changing needs. Older toddlers can feel like a big girl or boy in their new and exciting bed and in turn give you the best night's sleep you've had in ages. Older children, meanwhile, can use the space for their huge collection of toys including dolls houses, racing tracks or large role-play items like toy kitchens and so on.
Moreover, students with homework to do can make use of the additional space created to set out their books, pens and cue cards and enjoy uncluttered surroundings. The bed also comes with a flexible table-top which can be used for either play or schoolwork. Kids of all ages will love climbing the ladder to their bed, but you parents can rest easily knowing that your child is only slightly raised from the floor and protected by a barrier.
Styling your Steens Mid Sleeper bed
As already mentioned, you can use the empty space created by our kid sleeper quite creatively. Whether you are looking to make a playful den or simply use the added height as storage then stacking storage boxes or drawers are a great way to use space sensibly. Some younger kids may love the idea of a curtain to create a hidden space, while you can also get bed tents which will keep your little one covered while they sleep and give them the sense of being in the great outdoors on a camping trip. Child-safe fairy lights are also a great way to add that magical feel to the cosy space!
On the other hand, if a mature, homework-driven area is what you want to achieve then we would suggest, first and foremost making the desk set up look the part, because we all know that older children to young teens are very aware of their surroundings! Of course a comfortable seat pad for long stud sessions might be required, along with possibly a table lamp for those dark winter's nights. Without forgetting, of course, suitable storage for textbooks, stationery, laptops, headphones and any other accessories your child might be required to use.