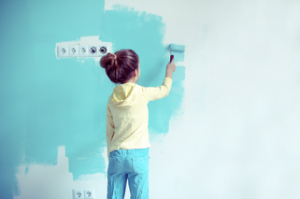 From space and money saving solutions to kids bedroom storage, we have put together some top tips on how to decorate your child's bedroom. This task can be a fun and challenging experience. With so many different designs and concepts to choose from, there is definitely something for all children whatever your budget.
1. Set a Budget
Before redesigning of your children's bedroom, plan an affordable budget in which you can work too.   Consider this when choosing paint, furniture and accessories so you have a guideline to stick to. Checking out the sales is always a good place to start.
If your budget is tight, let your creativity blossom by revamping old pieces of furniture. Visit local material stores for fresh designs which can be used to cover this furniture.  It will give your child a new, unique piece of furniture and they can enjoy making together with you.
2. Get them involved
Get your child involved with the change and show them different themes and ideas which would work well in their room. A child's bedroom is their space and is much more than somewhere they sleep. It's a place for them to play, study and should help with the dreaded task of getting them to bed.
The style and design in which is chosen will reflect your child's interests and personality. And once the room is finished, they will take pride in showing off their hard work!
3. Invest in the long-term
It is worth spending a little more to ensure your children's bedroom furniture is of a good quality. It is likely to be subjected to quite a bit of wear and tear so making sure it is sturdy enough is vital. Save money in the long run by opting for furniture that will last your children for several years.
4. Plan the layout
Experiment with the layout of your Child's Room and rearrange the furniture! See what pieces fit best situated in other parts of the room. This can be very beneficial and can also be a great space saver!
5. Make the most of the space
Your child's bedroom is probably one of the smallest in the house so selecting the right furniture is essential to avoid it feeling overcrowded. Multi-functional pieces such as a built-over or high sleeper bed with storage to avoid having to buy two separate piece of furniture such as this Steen's highsleeper bed.  
6. Be smart with kids bedroom storage
Learning to keep their room tidy will be much more interesting for your kids if you put in some fun storage options. Baskets or trugs are great for storing toys while a colourful dresser or wardrobe will encourage them to put their clothes away. A bed with storage already built into it will provide somewhere to store items and avoiding taking up too much floor space.
7. Keep it neutral
Opt for a soothing neutral shade on the walls and add colour and interest with accessories such as bedding, rugs, curtains and pictures. This allows you to easily change the look of the room as your children grow older and their tastes change.
8. Finishing Touches
Why not add a personal touch to your child's bedroom? Children love to be able to display their work proudly, so hang up any paintings they have created, pictures, or certificates they achieved in school.
Do you have any tips you would like to share with us? Tell on us Facebook or Twitter.