A playroom is a room solely dedicated to your child's toys and learning materials. It is somewhere that your child can learn and develop while also having fun. It makes sense to have this room as something entirely separate to their bedroom, this way they will be able to differentiate from playtime and bedtime, and can have a well-rested snooze at the end of a hard day's play!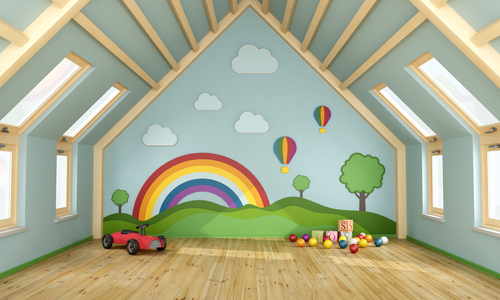 Here at Children's Bed Shop, we've put our heads together and come up with a few different ways you can create the perfect playroom for your kids:
Fill it with learning materials
With most children, if you put too much emphasis on education they're going to shy away from it eventually. However, if you let them find interests for themselves, then you're less likely to get any backlash. If you include things like an atlas, reading materials & art supplies you may be surprised at what they take an interest in.
Store away all those toys
Just because there's a room in your house that's dedicated to play, it doesn't mean that it should be a mess. We stock a wide variety of storage units you can choose from. Find a place to put all those toys and make sure your children clean up after themselves, giving them a sense of responsibility. After all: they're their toys, not yours.
Play some word games
A great way to get your child into reading and storytelling from an early age is getting them interested in language. Including a magnetic wall with letter magnets can really help your child get a grasp on spelling. Another great idea for when they're older is cutting up an old book of simple words and sentences, then putting all these component parts into a bucket – your child can create your own stories this way and fuel their creativity.
Put those books on the shelves
Childhood reading is crucial for early development, so make sure you have somewhere to put all those books instead of piling them up into a massive tower on the floor! Steens kids furniture has got you covered with their range of low & tall bookcases to suit any need – from a modest collection to a veritable library!
Display their creativity
If your child is interested in creating things (drawings, paintings, stories etc) be sure to give them a space where they can proudly display their creations. This will promote a real sense of achievement for your child as they can see everything they've created proudly displayed on the wall.
Promote study time with a desk
Getting your child a desk provides them with a designated place for study and somewhere to experiment and get creative with the pen and paper in their early years. This can lead to greater benefits later on in life when they reach school age. Our website features a number of desks by Steens, so you and your child can pick the perfect one.