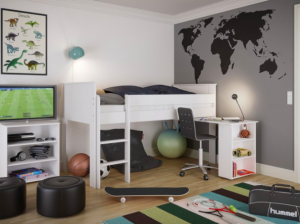 As soon as your child begins school, they begin to grow rapidly. One minute they are those pre-schoolers running around your ankles and in the blink of an eye they become little people with long limbs. They collect more 'stuff'. Clothes become larger. They take up more space.
It is amazing to watch them grow at this age, but they also need to get a good night's sleep. School-aged children need between 9 and 11 hours of sleep per night. It is so important that you give them the right space in which to have a restful night's slumber.
As they grow, it is essential to buy a bed that will grow with them. A mid sleeper or cabin bed are perfect to keep both of you happy.
These are multifunctional beds that are raised from the floor. They are not as high as a high sleeper or a loft bed, but still provide extra floor space beneath. They come in a variety of designs and colours, meaning that you will find the perfect bed for your child's bedroom.
A mid sleeper with storage can easily solve the problem of too much 'stuff' as well as making the climb into bed a fun experience.
They tend not to have a second bed like a bunk bed. This means there is extra floor space below the bed. Perfect for your child to perfect their dance or wrestling moves!
What age is a mid sleeper suitable for?
We usually recommend these beds for children aged 6 and above. They are perfect for primary aged kids who are learning new skills and need more space in their bedrooms.
What are the benefits?
There are plenty. A mid sleeper with storage will give you much more space to store your kid's 'stuff'. The Steens Alba comes with a pull-out desk, providing your child with the perfect place to do their homework (or make slime). We also love the Julien Bowen Pluto mid sleeper with storage. This bed has a chest of drawers and a bookshelf. Your child can always read a book before lights out. No excuses.
You can also add a little fun to bedtime with accessories. Steens for kids make a slide and tent accessories to liven up your kid's room. Who doesn't want a slide in their bedroom? This type of bed is perfect for growing with your child. Teenagers will accumulate a variety of things that need storing. Plus, they will need a desk for study and storage for all their school books and folders.
We can help you choose the perfect bed for your your child. Why not explore our range to see some great bedroom ideas.