Here at the Childrens Bed Shop, we have a brilliant range of Children's Beds from top brands such as Steens and Thuka to suit any design and budget. A good night's sleep is crucial in a child's life. Children need a safe and comfortable place to recharge their batteries each night to ensure proper mind and body development.
Single Beds and Low Sleeper Beds
There are many single and low sleeper beds to choose from. Take the Julian Bowen Jemima single bed, for example. With a pretty pink finish and heart design detail, it is ideal for all little princesses to get their beauty sleep.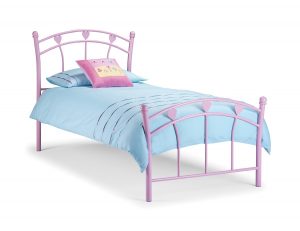 Captains' Beds
Products such as the Sweet Dreams Ruby Pink Captains' Bed show exactly why this is a popular style. Although they take up the same floor space as their single counterparts, captains' beds have the bonus of coming with storage, an extra bed or even a combination of both. Great for when space is at a premium.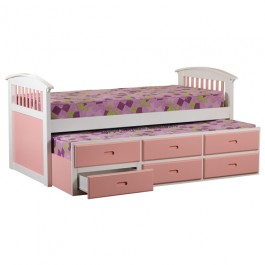 Cabin Beds and Steens Mid Sleeper Beds
Choosing a cabin or mid sleeper bed can be the ideal space-saving solution. Little adventurers will love the Steens for Kids Midsleeper Bed with Blue Accessories, which doubles as an exciting play den, whilst the Steens for Kids Midsleeper Bed with 3+2 Chest in Solid Plain White comes with plenty of storage to help keep your child's room neat and tidy.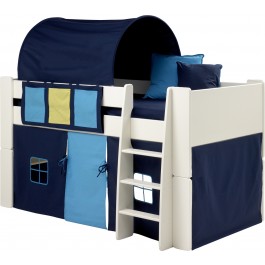 Loft Beds and Thuka High Sleeper Beds
A perfect solution to help children to balance work and play, the Thuka Trendy 30 High Sleeper Bed combines a high sleeping area with a fully equipped desk and shelving unit. Offering the alternative of an extra bed on the lower level, the Steens For Kids High Sleeper Bed and Single Bed in Natural Lacquer is another example of how children's beds in this category exude both style and practicality.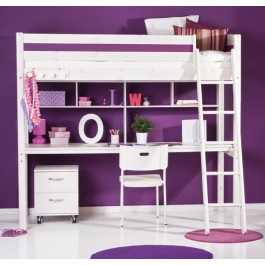 Bunk Beds
Who doesn't love a bunk bed? Choosing the Julian Bowen Domino Maple means that even smaller bedrooms can benefit from the fun and functionality of bunk beds, whilst the Parisot Bibop 2 Bunk Bed offers not just a place to sleep, but plenty of storage too.
Do you have a question about one of our children's beds? Contact us here.