Our usual lives may be on hold whilst the world is in lockdown, but routine is still essential in helping children maintain some normality in their lives.
How do I create a routine?
First of all, be flexible. Plan a schedule that includes both structured activities as well as free time. Some children may even like planning their routine, so get them involved.
What could this routine look like?
There is no one perfect way to organise a routine. Each family is different. However, here are some ideas we think could help.
Keep Moving:
Maintaining physical activity is vital in keeping a healthy body and mind. Get your kids up and moving every day. If you don't have lots of room, think about getting a kids bed with drawers to make sure everything can be tidied away and ensuring there is more floor space. Jumping jacks, yoga stretches, and burpee challenges can all be easily done in a bedroom.
Get Studying:
Schools are providing work and, although you can't reproduce a classroom, you can provide a great study area for your children to stop and focus on learning. Having a cabin bed with desk means that there can be a designated study area that doesn't encroach on other spaces.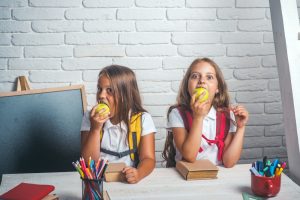 Which cabin bed with desk do you recommend?
Many of our cabin beds come with a pullout desk, meaning that work can be put away at the end of the day. Our midsleeper cabin bed with desk provides a cosy and durable solution to keeping bedrooms practical yet relaxing.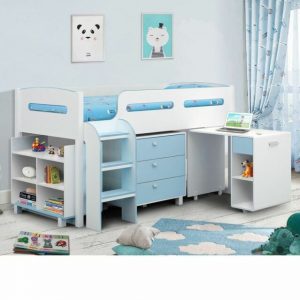 Craft Away:
With more time to spend with the kids, why not get creative? Getting a cabin bed with desk means that you can help your children find their artistic streak. The desk space will allow them to make rockets out of recycling or necklaces out of pasta. Having a kids bed with drawers ensures that you have a space for them to store their creations.
Organise your Space:
Think about all the clutter your children have accumulated over the last few years. Get them involved in resorting and reorganising their bedrooms. A girls bed with storage is the perfect piece of furniture to organise toys, clothes, and shoes. A cabin bed with a desk also provides lots of storage solutions; more shelving to place books and room to store toy boxes underneath the bed. If you declutter as a family, you will be amazed at how many forgotten toys will be rediscovered.
Give Each Other Space:
Try and fit in some downtime into your daily routine. Let children go to their bedrooms and relax. Having some free time by themselves is important but, to relax properly, they need a calm space. A girls bed with storage or a kids bed with drawers will help keep bedrooms organised and tidy, creating a more inviting place to sit and read or listen to music.
Keep in Touch:
Another use for a cabin bed with desk is to help your children stay in touch with family and friends. A desk to put a laptop on means videoing calling is easier. It also provides a place where they can write letters and postcards, helping them feel more connected to the outside world.