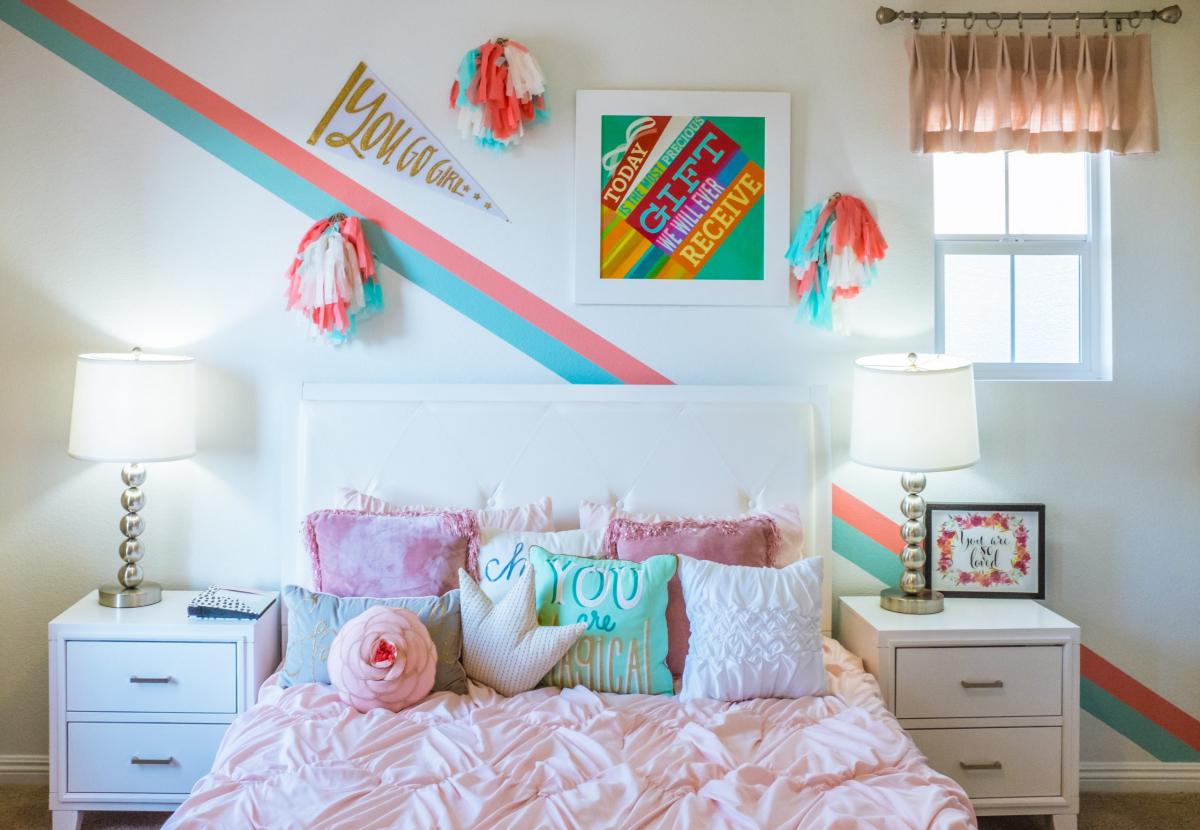 You and your children can breathe a deep sigh of relief as the summer holidays are finally upon us! No more blaring alarm clocks and rushing around in the mornings trying to get everyone ready and out of the door to school! No more homework and exams to stress out about for them. Thank goodness! Now your children can sit back and relax. A few weeks pass and maybe your children have been sitting back and relaxing a little bit too much watching television and playing video games. It's time to get them motivated and moving and what better way to do so than to tell them that they can help you redecorate their bedroom?
Perhaps your child's bedroom is in desperate need of being redecorated or maybe it just needs a touch-up. Maybe your child also needs a new bed, especially if they are transitioning from a toddler/junior bed to a standard single-sized bed or if they have had their current mattress for quite a few years, as it may not suit their growing body any longer. We stock and sell a range of children's beds for all ages and with numerous different design features, so there is no question that you will find the perfect bed when exploring our website.
If you are thinking of redecorating, then please keep on reading for some top tips on how best to do so.
Get your child involved
Involve your child in the process of redecoration. Take them with you to the DIY store, and let them choose their own paintbrush, roller, and tray. Let them browse through the different aisles and get some inspiration from them. It is their bedroom after all but do be mindful of choosing a bedroom décor that is not going to be suitable in a few years' time. For example, they might be obsessed with fairies when they are eight years old but by the time they reach their teens, they will have a new obsession. One way to address this would be to allow a few fairy objects such as a light shade, lamp, moneybox, picture frame, and ornament that can easily be removed at a later date - unlike fairy wallpaper!
Storage space
One of the main things to think about when redecorating is increasing the potential for storage space. You can purchase all sorts of furniture in or on which to store your children's items, such as bookshelves, chests of drawers, toy boxes, and storage hampers. However, these items have a habit of taking up a lot of floor space in themselves.
Wouldn't it be great if you could have some kind of all-in-one storage? Well, many of our beds offer just that. Take the Kids Avenue Estella Highsleeper & Bed with Storage & Desk in Grey, for example with its inbuilt drawers and desk. Or have a look at the Stompa Uno Storage Cabin Bed with Doors which has handy under-bed storage. You can browse through the section on our website titled Kids Beds With Storage for more options. 
Decorating the walls
If you want to make sure that the bedroom décor will last the test of time and your child's changing tastes, then have a think about choosing neutral colours. If you want a pop of colour or a pattern then it is quite on-trend to decorate one wall in this way, creating a feature wall and leaving the rest of the walls plain. You can use paint, wallpaper, or even vinyl stickers to do so.
There are many different beds for kids that would suit this design style. The Astral High Sleeper Bed in White would fit the bill, given that it has a simple design with clean lines. The same can be said for the Julian Bowen Zodiac Bunk Bed in Dove Grey.
Bringing it all together
You can bring the feel of your child's bedroom together by adding artwork and accessories such as lighting, rugs, bed linen, and pillows.