Is it time to give your child's bedroom a refresh for the New Year? At Children's Bed Shop we have come up with a few helpful ideas on all the different ways you can spruce up your child's room for 2017.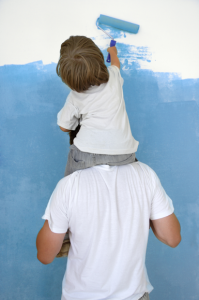 Lick of paint

What better way to refresh a room than to give it a bright new colour. Changing the colour can really give it a boost and make it look clean and new.
Rugs
A new rug can brighten up any room. With plenty of patterns, colours and designs to choose from, it'll be easy-peasy to find something that your child will love. Don't be surprised when they beg you to get a design featuring their favourite television character, though.
Mattress
All parents want is the very best for their child so why not invest in a good mattress? According to the NHS, your child should ideally be getting around 8-12 hours of sleep a night depending on their age, so a mattress that is comfortable with a long shelf life is worth the investment.
Bedding
A child's bedding is a precious thing to them, every kid wears their bedding like a badge of honour. It shows off their personality, whether it be the football team they support or the television shows they watch. Bedding can have a lot of wear and tear with the many spills and accidents it takes over the years, don't you think it's time to change it for something fresher?
Bed
A brand new bed can totally change the dynamic of a bedroom. With many different styles to choose from, our recommendation and most popular bed is the fantastic Memphis bed. This midsleeper bed is elevated from the floor with space underneath which is great for storage. Matching Steens furniture is also available or you can leave it as free space for playtime.
Storage box
Sometimes all we need to do is declutter to make a room feel fresh. With a storage box (otherwise known as somewhere to hide all the toys and mess) your child's room will feel twice as big. More space for them to play and let their imaginations run wild!
Have a clear out
You can freshen up your child's bedroom by simply having a clear out. Drop any unwanted toys off at a charity shop and marvel at the flooring that you probably forgot you had.