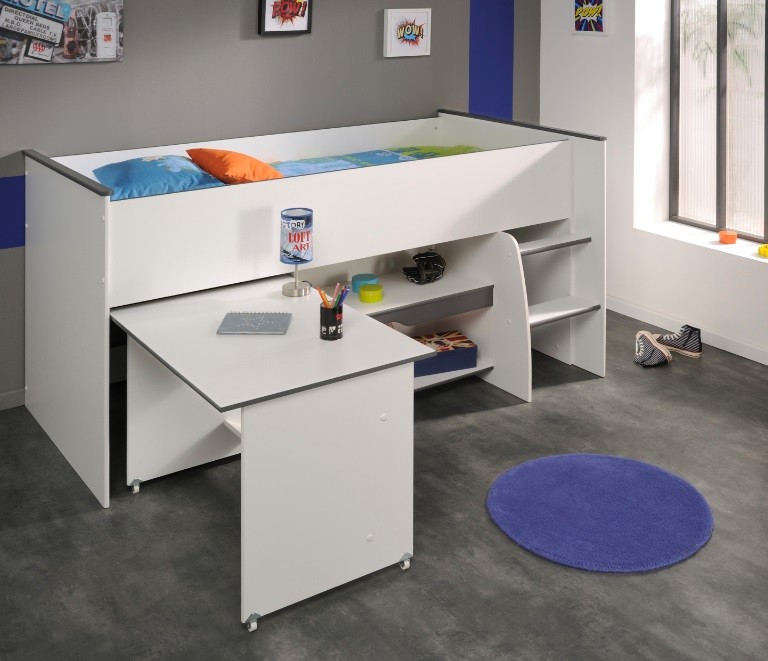 As kids get older, they need more and more space in their bedroom. Not only do they grow in stature, but their range of interests grows too. Their bedroom space needs to be able to accommodate new clothes and shoes as well as the items that accompany their growing list of hobbies. Unfortunately, your house doesn't grow with your kids. You have more stuff than ever before but the same amount of space to fit it all into. We've come up with a variety of ways you can more efficiently use the space in your home.
Cabin beds with storage
A bed occupies the most space in a bedroom. When you're pressed for space, any way you can utilise this space more efficiently should be welcomed. Midsleeper cabin beds that incorporate storage are a must for getting the most out of your space. We have a range of space-saving beds available from quality brands. The extensive range of options caters for all tastes and requirements: you'll find mid sleeper beds in a variety of sizes and designs.
Cabin beds with desk
When kids start school, they need a space that gives them everything they need to learn effectively. As well as a quiet room free from distractions, they need a desk. Fitting a desk into an already cramped space can seem like an impossible task. Thanks to the innovation of industry-leading manufacturers though, there are products that integrate a bed and a desk into one space-saving product. There's an impressive range of options available on our site in a comprehensive range of sizes, making finding a product that is ideal for your needs straightforward.
Colour
If you've ran out of ways to create more space, you can turn to the powerful psychological impact colour can have. Without completely overhauling you bedroom, you can make it feel bigger for the price of nothing more than a few tins of paint. Lighter colours reflect light and darker colours absorb light. Because of this, lighter colours appear to recede, making a space look bigger than it really is, while darker colours appear to advance, making a space look smaller than it really is. So, to maximise your space, consider using lighter colours for the walls and ceiling.
Clothing rack
It might be slightly unorthodox but opting to use a sleek, simple clothing rack instead of a bulky, boxy wardrobe can be a great way to create space. A stylish, minimalist approach to designing and decorating a bedroom that looks great while eliminating any unnecessary excess. Minimise expense and maximise space.
Shelving
And, depending on the age of your children, putting out-of-reach, high shelves in their bedroom might be an idea worth pursuing. Floating shelves give you the opportunity to stash away stuff in an area you'd never be able to use anyway. And thanks to the simple, minimalist design, they are usually inexpensive to get hold of too.
Hopefully, in this post, you've picked up a few different ways you can make the most of the space you have available to you. If you have any useful space-saving ideas, please let us know in the comments.