As fun and exciting as it is, decorating children's rooms isn't always the most cost effective task. From children's changing interests and styles to sudden growth spurts causing them to outgrow their current bed, the costs can add up in no time. Luckily, here at Children's Bed Shop, we have a wide selection of cheap children's beds in high quality styles. If you're shopping for a new bed for your little one and want to get the best for your buck, check out our top picks for great value children's beds.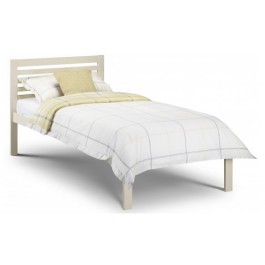 Julian Bowen Slocum Bed in Stone White
Simple, stylish and incredibly versatile, the Julian Bowen Slocum Bed in stone white is one of the best children's single beds out there. This frame is perfect if you're looking for small children's beds that don't take up too much space but are big enough for a sound night's sleep. The white shade of this bed means it will look great with any colour scheme or bedroom decor, and features a sprung slatted base for added comfort and support.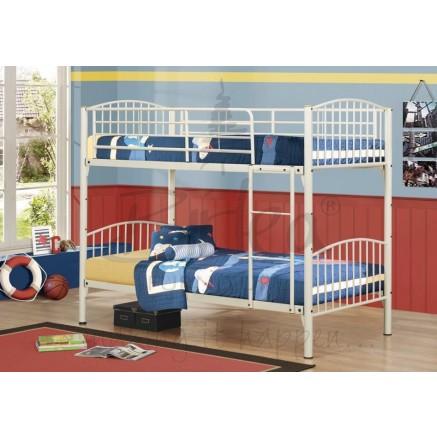 Birlea Corfu Metal Bunk Bed
If you need a bed that's fit for two, the Birlea Corfu Metal Bunk Bed is an excellent choice. This children's bunk bed has a sturdy metal frame, traditional design and simple white colour. Aside from being great value for money, this bed also has the option to be split into two separate beds - perfect for when your children are a bit older or you simply want to update their bedroom without the hassle of redecorating.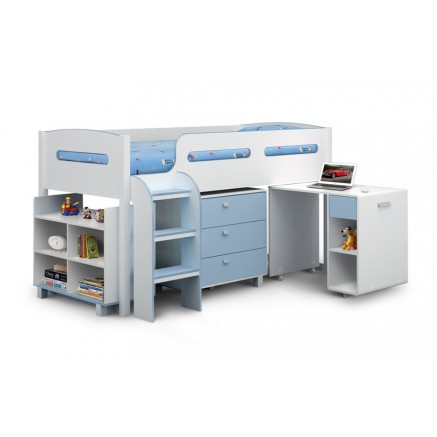 Julian Bowen Kimbo Blue Midsleeper Cabin Bed
A Children's Bed Shop favourite, the Julian Bowen Kimbo Midsleeper Cabin Bed is a must have for those that want a bed with plenty of storage space, at a low price. This children's cabin bed features a 3 drawer chest, a shelf unit, and a pull out desk for you to keep all their clutter safely stored and keep their room looking tidy. The bed also has a stylish design and a choice of pink or blue shade depending on your preferences.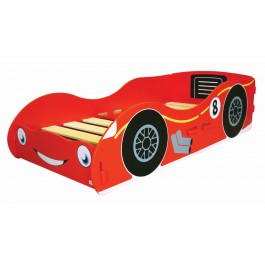 Kidsaw Racing Car Junior Bed
If you want a bed that's eye-catching and fun, without a hefty price tag, then the Kidsaw Racing Car Junior Bed is for you. This themed children's bed has an exciting design that's sure to breathe new life into any child's bedroom. The frame is easy to assemble - just slot the parts together, and features a slatted bed base to ensure your child gets the good night's sleep they need.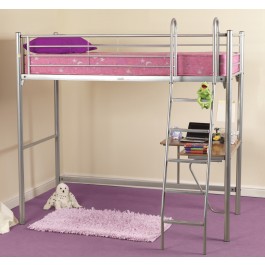 Sweet Dreams Opal High Sleeper Bed
Cool and practical, the Sweet Dreams Opal High Sleeper Bed is great for anyone with a child that needs a dedicated place to study in their room. This bed doubles up as a study space with a built in wooden desk, saving you the money and the space of having to buy two separate items. The versatile metal frame, easy climb ladder and sturdy base make this a bed that's sure to last your child many years to come.
To see more of the amazing beds we have on offer at Children's Bed Shop, check out our full range now!