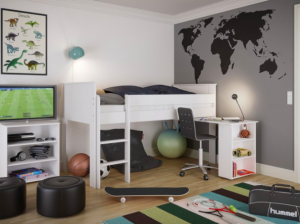 There is still time for you to order and receive a Steens Memphis mid sleeper bed in time for Christmas!
Customisable
These beautiful beds are both practical and attractive, durable enough to survive rough play and with enough room for ample storage.
They are made with a solid MDF frame, which incorporates curved edges for comfort. There is an integrated ladder that can be built on the left or right to suit the layout of the room.
A Steens Memphis mid sleeper bed from the Children's Bed Shop comes in a variety of options. The available colours of light or dark grey and classic white will suit every room.
Steens mid sleeper bed for Christmas!
Whether you need a new bed as your child's first 'big bed' or as part of a room makeover, a Steens bed could be the perfect choice. And by ordering now you could finish the project before Christmas.
This new bed could help make Christmas more magical and even encourage them to stay in bed for a few minutes longer on Christmas morning! The Steens mid sleeper bed is ideal for hanging stockings on or you could even add fairy lights to really make the room sparkle.
Optional extras
For an additional surprise you could opt for the play tent that fits the Steens bed. These come in a couple of different colour options and can turn the space under the actual bed into the perfect play area, reading corner or fun hideaway. This sort of addition could help make the room into a safe haven for your child to play and enjoy themselves.
Another advantage of opting for a Steens Memphis midsleeper bed is the practical Steens bedroom furniture that is compatible with it. Ideal for rooms where space is a premium, the Steens Memphis pull-out desk goes underneath the bed frame and can then be pulled out when needed. Perfect as your child gets older and starts having to do homework!
There is also the Steens Memphis low bookcase, which would fit neatly under the midsleeper bed. The Steens low wardrobe would match the Memphis furniture to help finish the room.
All these options and possibilities mean the Steens Memphis range can be personalised to fit your family. Whether it's a small room or large, this bed will help make the most of the space available.
Whether you want to create a practical work station for a busy and creative kid, or have a magical space where their imagination is key, this bed is ideal. Simply select the options best for you and your child to make this Christmas that little bit more magical. Maybe they could even help with the construction (with your supervision)!