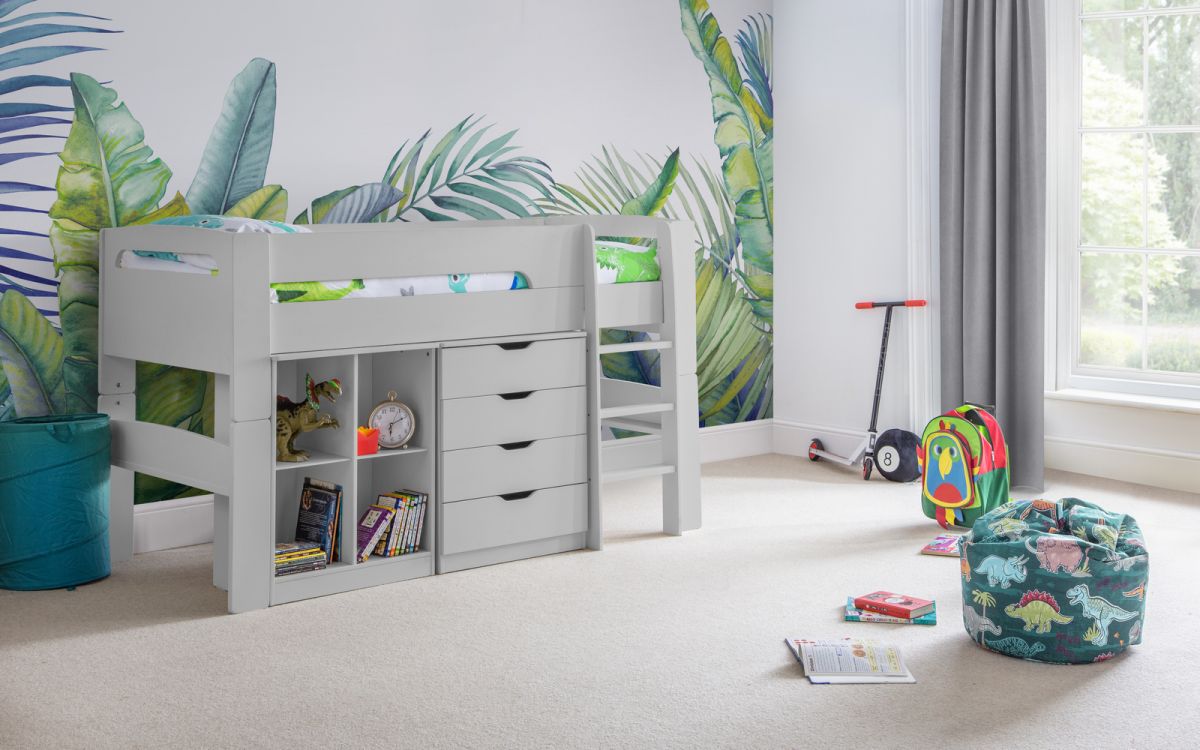 Some parents may feel that they can improve their children's moods by adding colours in the house. These colours can also be included in your children's bedrooms to aid with tantrums and heighten their good moods. Perhaps you don't fancy splashing colour all over the walls so you could incorporate colour into the boys cabin beds or your childs midsleeper in the form of a patterned tent or duvet set.
Studies suggest that choosing specific colours can boost your home's value by up to 5% should you wish to sell your house or move in the future. This can do wonders for your mood, and if certain colours can also evoke a positive response in your children then it's a no brainer to whip out the paint brushes and add that pop of colour to your living space!
Before redecorating you may wish to research colour psychology in order to set the right tone in each room of your home. If painting isn't for you, we suggest adding throws or blankets, pillows, frames, vases, rugs and other accessories in your desired colour. Be sure to steer away from black as too much of this can be depressing. Instead, make use of white throughout your home for a peaceful state of mind and add accents of colour to each space. Read some of the colour options below for the ambience you are looking to bring to your home.
Purple
Purple is considered calming, perfect for those tantrums you can't control. It can be a trickier colour to place in your home and is often a favourite of little girls. Stimulate your daughter's brain activity and keep the peace with a new purple inspired bedroom.
Blue
Blue is the most common colour used in the household and can provide us with a well-rested nights sleep. It can also boost imaginative thinking, so it might be worth adding some cool blue tones to your rooms to enhance your child's creative thinking. Not only a former favourite colour but it is believed to reduce heart rates and lower body temperatures.
Green
Green can be the most refreshing colour for your home helping us to focus and promote fresh ideas. This colour is considered more versatile as it can also have a relaxing effect, represent renewal and good health. Maybe it's time to introduce green into the bedroom and why not add more delicious fruits and vegetables at the dinner table! We love adding greenery in the form of plants to the home.
Red
Red conveys passion, power and strength. This colour is more dominant over the others and can convey energy and excitement. Unlike its cool blue friend, red raises blood pressure and can increase the heart rate. A passionate, warm colour like red is best for the dining room space rather than firing up your child when you're trying to get them to go to sleep! If they insist on red, why not compromise with a darker shade of pink as this colour is calming and again, a preferred colour choice for most girls.
Orange
If you're looking to get your child to interact more then orange may be the colour for you. Social interaction is promoted with this colour as it is considered to increase happiness. We often associate orange with energy and warmth and when used sparingly can have a positive effect on your little ones.
Yellow
Lastly, the colour yellow enhances metabolism. Great for fussy eaters! Like orange, it is a happy colour. Often connected with the sun it can uplift our moods and inspire hope and confidence about the future. We are certainly staying optimistic when it comes to using yellow!
For our other top picks on decorating your children's bedroom check out our post here.