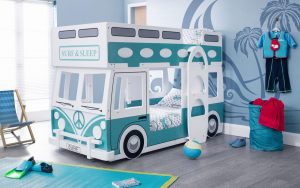 Choosing the right childrens beds is a big decision and can seem daunting. At Children's Bed Shop we have childrens beds for all ages with options to suit even the fussiest of kids. Whether it's a cute toddler bed or a high cabin for your teenager, the right bed can make bedtime that little bit easier and be the focal point of a room that your child will actually want to sleep in.
The transition from cot to bed is a big step for toddlers and you will want to make the process as easy as possible. A themed bedroom can be a magical place for a toddler, and they will love spending the night in our big green tractor bed after a busy day. Or how about treating them to our red Scorpion Racer bed? The only problem may be getting them out of it in the morning!
If you're looking for bunk beds with a difference, what could be cooler than spending the night in our camper van themed bed? Or how about climbing aboard our double decker bus for a bedtime story before lights out? For little explorers and den builders, our mid-sleeper range combines a comfortable bed with a tent underneath for imaginative play that your child will just love. And it also provides a handy space to stash away toys at the end of the day!
If storage is at a premium, consider childrens beds with drawers and encourage your child to pack away their things. Start doing this at an early age and, hopefully, they will keep the habit later in life. Our best-selling Julian Bowen Jupiter bed comes with a host of storage built in and even a roll out desk so that older children have somewhere to do their homework. If you're looking for a younger boys bed with drawers our Stella Low-Sleeper is a perfect choice.
For a complete sleeping solution, we also offer our beds with mattresses. If you need a girls bed with mattress look no further than the Steen's Midsleeper which can adapt and grow with your child for a great value option. With a sleeping tunnel, play tent, ladder, and optional light, this bed is a dream come true. For an alternative girls bed with mattress consider our bestselling Pegasus High Sleeper and they will feel on top of the world!
Kid's looking for the perfect gaming set up will love our Kids Avenue Urban Grey Highsleeper 2 which has space for a TV, storage and even a futon chair bed which can be used for sleepovers when the gaming battles are done! They really will be the envy of other kids with this set up.
Don't forget we also have a great range of mattresses to suit all budgets and lots of our beds have matching furniture available too. We really have thought of everything so you can look forward to a good night's sleep knowing your child is comfortable and happy in their new bed.