Looking to redecorate or freshen up your child's bedroom this spring? We understand that from time to time our home décor can become a bit tired and will require a little tender loving care. We want to make it easy for you as customers to redesign or add a pop of refreshing colour to your little one's bedroom. At Children's Bed Shop we strive to give you the greatest in bedroom or playroom furniture at the very best prices!
We want you to be able to spruce up the bedrooms in time for the sun to trickle through onto the freshly made bed sheets and light up your child's face with some new bedroom treats! There are several special offers available including package deals on Steens for Kids High Sleeper with Futon Beds and Julian Bowen Mid Sleeper Beds, along with some amazing accessory options for those who wish to add a touch of sparkle to their existing bedrooms!
Take a look at some of our amazing spring sale offers below:
Steens
Our super Steens sale offers a superb range of products from within the Steens For Kids bedroom section including single beds, mid sleeper beds, high sleeper beds and bunk beds, as well as other bedroom accessories to complete the look!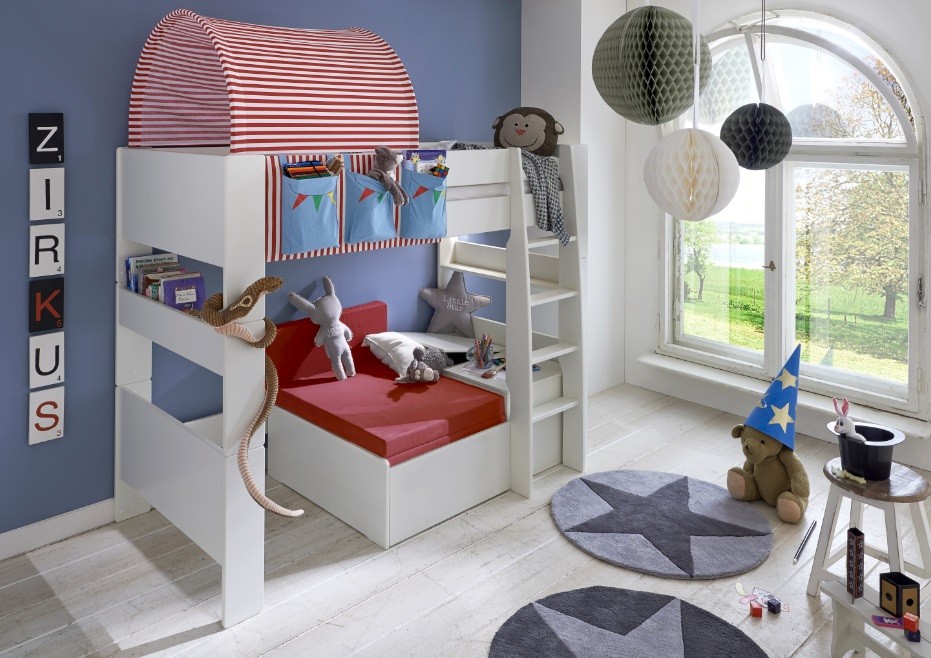 One of our favourite Steens For Kids products is the high sleeper with futon in solid plain white complete with storage box. This is the perfect solution for children's sleepovers with the futon chair transforming into an additional sleeping area. The storage box also offers a great way of housing all their toys after a long day of playing!
Steens Spring Sale Promotion!
Was £529.00, Now £499.00! (saving £30.00)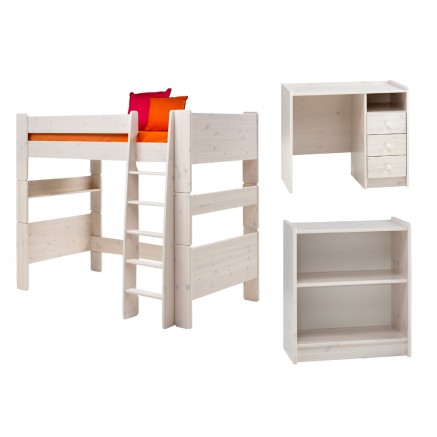 A great way to brighten up your child's room is with the Steens For Kids High Sleeper Bed in whitewash. By keeping the furniture neutral it allows you and your children to decorate with colourful accessories and fresh blooms! With matching pedestal desk and low bookcase all available in the authentic whitewash wood grain finish will provide a cool and calming space for your child to do their homework or read you a story.
Steens Spring Sale Promotion!
Was £579.00, Now £539.00! (saving £40.00)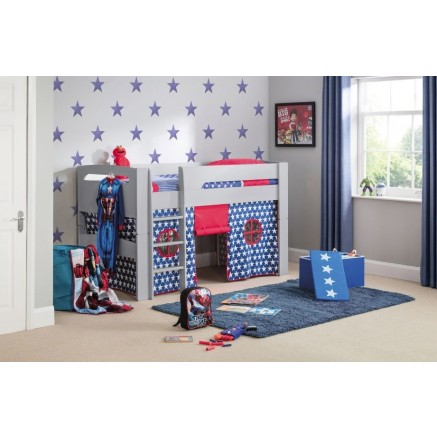 Julian Bowen
Looking for a unique, contemporary design? Check out the stylish Julian Bowen Mid Sleeper in smooth dove grey. It doesn't stop with the sophisticated ensemble it also gives you great functionality complete with robust ladder and the option to convert to a single bed when your little one is not so little anymore! Add a fun, patterned tent to the mix to give the play space a vibrant touch!
Julian Bowen Spring Sale Promotion!
Was £343.00, Now £319.00! (saving £24.00)
Why not try this lovely sleek setup? With the Julian Bowen Grace Day Bed, a superb design for any little boy or girl. Offering great functionality with its handy shelving it will compliment any sized bedroom. Sometimes we are limited with space so this could be a great option to solve the problem with the bed's additional under bed drawer. Alternatively, use it as an extra sleeping surface for your little one's guests.
Julian Bowen Spring Sale Promotion!
Was £229.00, Now £199.00 (saving £30.00!)
Perhaps you are looking for the ultimate accessory to liven up their bedroom? Why not try the Kidsaw grey star table and chair set to add a little creative character into their space? It can be used for tea parties with friends or for them to occupy themselves by drawing pictures and colouring until their heart's content!
Kidsaw Spring Sale
Was £65.00, Now £60.00 (Saving £5.00)
Shop the full range of our spring sale products here.