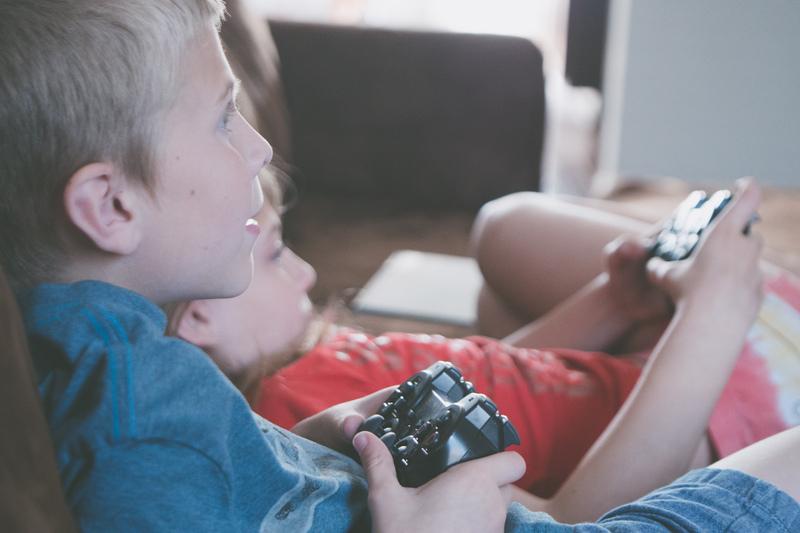 Do you have a mini gamer in your life?
Is your kid mad for Minecraft, fanatical about FIFA or a freak for Fortnite? Then we have just the thing for you. Introducing our amazing new high sleeper bed with desk designed especially for gamers.
Your child will be the envy of all their friends, thanks to the Kids Avenue Trasman POD 1 Gaming High Sleeper Bed, which has everything a young gamer could possibly need or even dream of. What could be better than stepping into their very own gaming pod created underneath this futuristic-looking high sleeper? It is the perfect place for your child and their friends to hang out and allows them to create their ideal gaming space. These space saving kids beds are perfect in smaller rooms. And as if that wasn't enough, the gaming pod area comes with super cool and stylish colour changing lights to make it feel even more special.
Young gamers will feel as though they are stepping into the film Tron every time they enter their gaming pod, which can be accessed from either side of the bed. Inside the pod area, there is a large built-in desk with a raised monitor shelf and cable tidy. The desk area features a colour-changing LED light strip, which can be changed to suit the mood and is sure to be one of the most popular features. The pod has ample space for all your mini gamer's gaming paraphernalia, including a gaming chair. If you're looking for the ideal chair to complete the look and fit perfectly into the space, then we also offer the Julian Bowen Meteor Black Gaming Chair as an optional extra.
When it comes to keeping their bedroom tidy, this bed means it won't be such a battle. It's not just the kids who will be in seventh heaven. Parents will love the extra storage space this high sleeper bed with desk brings. A hanging rail gives room for clothes, while three shelves will give your child ample space to display their most precious belongings and organise their games, books and equipment.
The Kids Avenue Trasman POD 1 Gaming High Sleeper Bed is bold and eye-catching thanks to its sleek, curved-edge design which manages to look both futuristic and retro at the same time. Its beautiful, warm grey colour (reminiscent of the grey cartridges used for some of the first computer games) contrasts perfectly with splashes of bright red to add interest. A wide-tread red ladder leads to a small double-sized bed space. Check out our range of small double European sized mattresses (120cm x 200cm) to help you complete the look.
It is recommended for children over the age of six years and comes flat packed for assembly.
We guarantee this epic high sleeper with desk will earn you major parenting cool points and its design will keep your child happy for years to come.