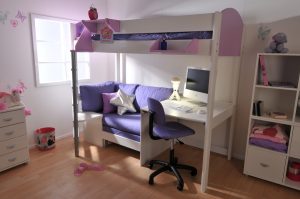 Why do we love Stompa Casa beds so much? Because they let our children relax, work, play and sleep all in the same space - that's why!
So much more than just a bed, the Stompa Casa High Sleepers are above all fun and ingenious design classics that not only look superb but also provide practical solutions if you are short of space. What's more, they are built to last and meet the highest safety standards.
Still not sure why we love Stompa Casa beds?
If you still need some persuading, here are six more compelling reason to buy a Stompa Casa bed for your child:
These beds offer the perfect space-saving solution, with built-in shelves for books and treasured items and cupboards or drawers for storing clothes.
Does your teenager need to find somewhere quiet to do their homework in an otherwise bustling family home? Choose a Stompa High Sleeper with a desk and study area built in. There's plenty of room for a work station and a comfy seat for reading.
If your child wants a friend to sleep over, it's not a problem. Many of the Stompa beds combinations come with a

fold-out sofa bed

or a trundle bed that slides out from under the main bed. Perfect for putting up a guest!
Stompa Casa beds aren't just for teenagers. These beds create great play areas. Younger children love to build dens under the main bed or to use their desk for crafty activities.
They are the ideal chill-out zone for stressed teens. Choose a

bed combination with a desk and comfy sofa

, and your child has the perfect spot to relax, read, play computer games and watch television.
Last but not least, these beds are great fun to climb in and out of. Every Stompa Casa bed comes with a beautifully designed angled ladder that is easy to climb up and down. Bedtime is fun time with a Stompa Casa.
Have we left anything out? Tell us why you love Stompa Casa beds on Twitter.