From looking after your little ones, to keeping on top of the homes daily chores, parents already have a lot on their plate when it comes to keeping the household happy! Having a child that helps out by tidying their bedroom is a huge blessing for busy mum's and dad's, and also teaches them independence and essential life skills early on. Here at Children's Bed Shop we've put together a few handy tips to help get the ball rolling and encourage your child to keep their bedroom tidy all year round.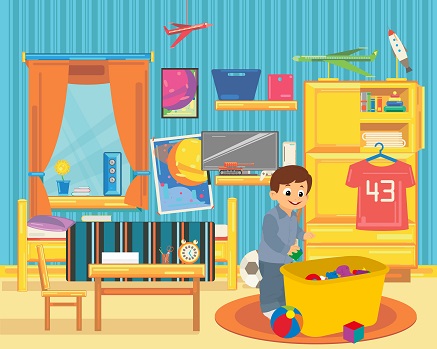 Show them how it's done
Since your child might not have a lot of practice in this area, it's best to start off by tidying with them. This way you can talk them through each step and teach them things like hanging clothing, and show them which drawers each item should be kept in. A great space saving solution when keeping your child's room is to look for cabin beds with storage drawers built in. Once your child feels like they know what they're doing, they won't feel as overwhelmed when the time comes to tidy up on their own.
Make it fun
If your child is reluctant to tidy, try turning tidying up into a game. This could mean setting a time limit for all the tidying up to be done in, making them eager to complete the task within the amount of time set. Just make sure the time limit you choose is reasonable for the amount of mess or size of their room - the last thing you want is toys and mismatched socks stuffed under the bed by a very rushed little one! Another trick could be to spruce up your child's bedroom furniture by using toy boxes with fun designs such as a kitchen playbox. This makes tidying up seem more like playtime, while your child may also take more pride in the fun design of their room.
Give them rewards
Once your child has successfully tidied their bedroom, give them a reward of some kind to reinforce the idea that they did a good job. This could be their favourite sweet treat, letting them watch their favourite show or taking them on day out to a place they love. Whatever you can do to let your child see what they've done as an accomplishment is going to improve the chances of them being more motivated to tidy up after themselves in the long run.