At the Children's Bed Shop, we are always delighted when one of our favourite brands release a new product. With this in mind, we know that the new Julian Bowen mid sleeper - exclusive to the Children's Bed Shop will be a real hit with our customers.
Introducing the New Kimbo White Mid Sleeper
The Julian Bowen Kimbo White Mid Sleeper Cabin Bed is a superb option for children and will really make sure that bedroom space is used to the maximum. The simple white finish makes it ideal for both boys and girls, and the design is superbly flexible.
You will find a handy three-drawer chest, pull-out desk and shelf unit integrated into the bed, which will provide plenty of bedroom storage. This is a great feature of the Julian Bowen mid sleeper white cabin bed, as it will allow your child to store everything they need - books, toys, and all those little bits and pieces.
Even better, integrated storage means that the bedroom can remain uncluttered and looking beautiful. This style of bed will suit a range of ages and really pass the test of time, and you can adjust the layout to suit your own particular room schematic.
At Children's Bed Shop we currently have the Kimbo White Cabin bed on offer with or without a mattress. This comprises of a full package of the bed frame itself, the pull-out desk, the drawer chest, cube unit and shelf. You can either purchase the bed frame and mattress together which includes a quilted sprung mattress or separately with a choice of mattresses including the Starter sprung mattress, Julian Bowen Premier mattress or Pocket sprung mattress.  Your child's bedroom will be well equipped for both sleeping in style and storage needs. Additional accessories, including a chair, are also available.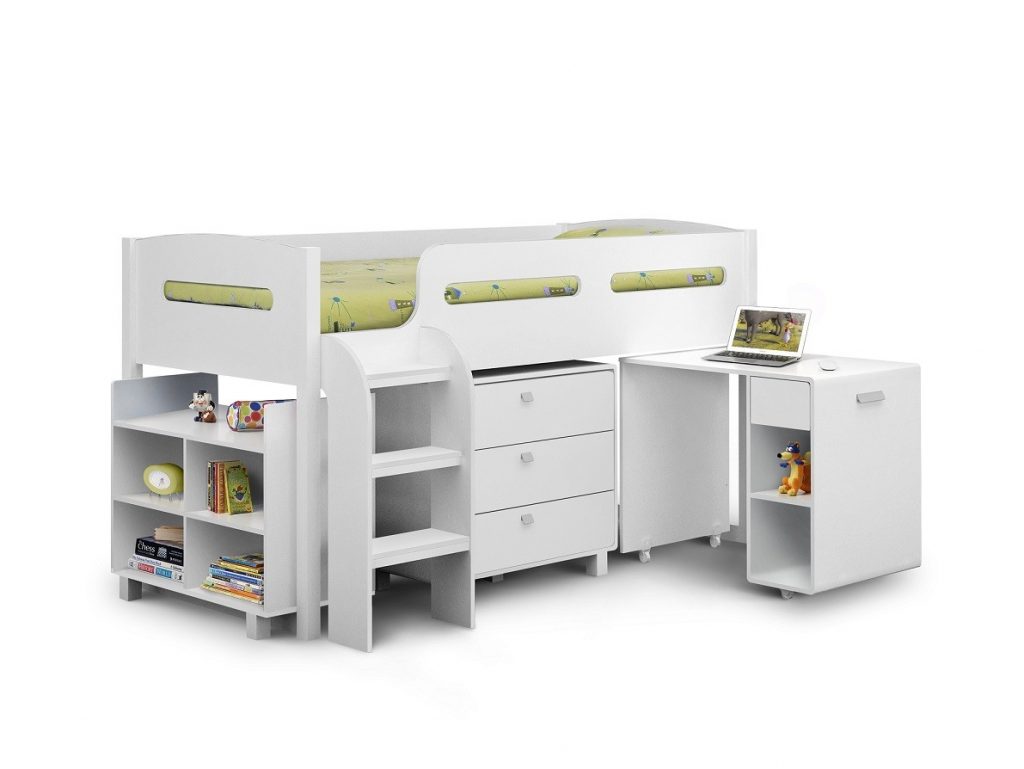 Facts and Figures
The bed dimensions are - length: 203cm, height: 115cm, width: (excluding ladder) 99cm, width: (including ladder) 120cm. The unit is finished in a white, foiled particle board. It takes a standard-sized child's mattress of 90 x 190 cm, and - as standard for this style of sleeper bed - the mattress needs to be within six to seven inches maximum depth. The bed will arrive ready for simple self-assembly.
Why Choose the Children's Bed Shop?
We are a UK business based in the North East, and we always sell our products at far lower prices than customers can find on the high street. We are the specialists in children's beds and bedroom accessories and wholly committed to providing an excellent customer service.
When we advertise a delivery time, you can rest assured that you will receive your bed within it - we know that there is no wiggle room when it comes to your little ones and their sleep. We also have a secure website with a safe SSL encrypted payment system so that you have peace of mind that you are buying in a completely safe online payment gateway. This is something that is very important to us, and we know that our customers value that peace of mind too.
We offer free delivery to postcodes in the UK mainland, with an extra option available for 'room of choice' services with a small supplementary charge. We also have a friendly and helpful customer services team on hand to answer any questions you might have, so do please get in touch if there is any way in which we can help or if you can't find the product that you need.