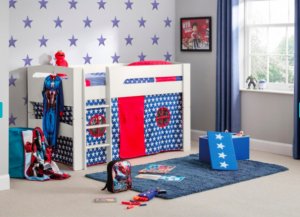 In stock and also in high demand due to its fun design and clever functionality, the Julian Bowen midsleeper bed is perfect for those looking for a mid sleeper with storage and comfort. Available in a range of durable finishes and colours to complement any room size or decor this childrens midsleeper bed hosts a range of practical and innovative features.
The clever functionality of these beds gives you the lower height of a mid sleeper with storage solutions that maximise space through features such as pull out desks, shelves, built-in drawers and, with many models, the ability to change the positioning of the steps to suit the shape of the room.
Younger children will be so excited to discover the open space for a cosy nook in many of the Julian Bowen midsleeper beds, where colourful play tents can be hung. Whilst their parents will welcome the different tent sizes that fit alongside many of the customisable options to suit their needs.
Sleek, elegant design and on-trend matte tones are available for parents of tweens and teens looking for a childrens midsleeper bed that can grow with them and their personality. Coupled with robust deep steps for developing feet, these childrens midsleeper beds will provide a space to relax, store and study that grows with them.
Customise your childrens midsleeper bed with an array of features.
Now they're back in stock, once you've decided which Julian Bowen midsleeper bed is right for your child, you can further personalise it with choices from the extensive range of features available. Choose which depth of mattress will give your child a comfortable long nights sleep. Give them a swivel chair for their space-saving pull-out desk and a clip-on light that they can take up to bed with them for a bedtime story or some extra reading time as they drift to sleep.
Need even more storage? Various models have further storage that can be incorporated in the bed itself or co-ordinating separates to continue the style and durability associated with Julian Bowen furniture throughout the room.
Safety, durability and ethically sourced materials in a Julian Bowen Midsleeper bed.
Supplying high-quality furniture for over 30 years Julian Bowen pride themselves on being members of SEDEX and so are committed to continuously developing ethical and environmental standards through not just their own manufacture but their entire supply chain. Each childrens midsleeper bed is finished with a durable lacquer and coating for long-lasting style and finish. Safety features such as high sides, easy-grip handrails and glow in the dark strips on steps offer reassurance for parents of children graduating to their first high sleeper.
FREE DELIVERY on all Julian Bowen Midsleeper beds.
Children's Bed Shop is pleased to have the Julian Bowen Midsleeper bed back in stock and will deliver one to you with a driver to assist with unloading free of charge making it easier and more affordable than ever to stylishly maximise the functional space in your home.