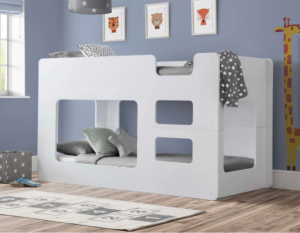 Bunk beds for kids are fun and cost effective, a practical and attractive addition to any child's bedroom. One of their key benefits is their space saving nature, which makes them ideal for smaller bedrooms.
Two stacked beds obviously take up just half of the floor space of two single beds side by side, and it's also far cheaper to invest in bunk beds as oppose to two separate singles too. But aside from the practical benefits, what child doesn't love the thrill of climbing up to the top bunk and having midnight chats with their friend or sibling on the bunk below? In that respect, a bunk bed offers so much more than practical comfort. They are the stuff of childhood memories.
At Children's Bed Shop we are proud to stock a wide range of childrens bunk beds in the UK. Launching recently, the Solar model from the Julian Bowen bunk bed range is a highly sought after childrens bunk bed that it both stylish and fun. The curved edges, in contrast to traditional sharp, angular corners, along with the crisp finish in lacquered particleboard, makes this a contemporary and chic design that would fit seamlessly into any interior.
Although recommended for children over the age of six, the bottom bunk is lower than the average bunk bed which would also make it suitable for a younger child if needed. Available in either white or dove grey, the tones are neutral and highly versatile, ideal to slot into any existing colour scheme, whether that be bold and brash or natural and understated. There is also the option to customise the outer unit either with bunting, lights or other soft furnishings.
The unit holds a standard UK mattress size 90cm x 190cm with a depth that must not exceed 18cm. We are able to offer a selection of mattresses with added features at an additional cost, such as healthbed junior mattresses and signature pocket sprung mattresses. These will make for a snug and secure nights sleep for your little ones.
When it comes to bunk beds for kids we understand that there is a balance between giving the kids something exciting and offering a comfortable, aesthetically pleasing piece of interior design for the adults. We feel that both of these objectives are achieved with this sleek and modern bunk bed that offers both functionality, fun and style.
So if you are on the look out for a bunk bed for your little dreamers, consider the Solar model from the Julian Bowen bunk bed range and enjoy a silent night all round. With quick delivery and easy to assemble instructions, you could have this stunning bunk bed in your child's bedroom in the blink of an eye.