It's that time of year again! If you find yourself wondering year after year what on earth to do with all those "toys", we may have a solution for you. Many of our beds incorporate extensive storage systems and accessories which help to keep toys contained. No more standing on the Lego on the way to the bathroom at 1am! We also stock a range of stylish children's storage which would make a great Christmas addition. See what's on our Christmas list...
Steens for Kids Blue Tent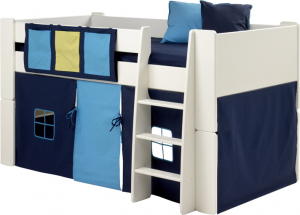 The Steens tent is a bright and vibrant addition to the Steens mid-sleeper. It can be purchased as part of a bed package, but it can also be bought as a standalone item. The tent works as a lovely space for imaginative play or just a cosy den for chilling out with a book.
The Steens tent adds a bright and colourful element to your child's bedroom, making it inviting to little ones of all ages and making bedtime an adventure.
The tent contains two windows and a door to make a play house. Alternatively, you can use it to store toys and games, helping to keep the bedroom looking tidy.
Bendy Bunky Light


Our exclusive bunk bed light is the perfect solution for the avid bedtime reader. The light is great for bunks, high-sleepers and mid-sleepers, as it can be USB-linked. It allows your child to read at night without the main light on. The Bendy Bunky Light is flexible and can be angled to suit your child's reading position. The 2W LED provides 50,000 reading hours, a great gift for kids.
JCB Skip Toy Box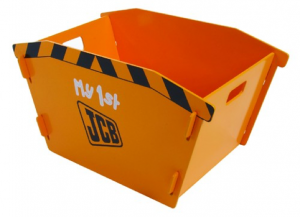 For all the digger obsessives out there, this spacious JCB toy box is perfect for the stash n' dash. Not only is it a substantial storage vessel, but it's also an exciting accessory for imaginary play. Your little builder can get busy clearing up the site at the end of a hard day's play! Manufactured from MDF, it requires no screws or fittings. Simply slot together like a jigsaw.
Kidsaw Kitchen Playbox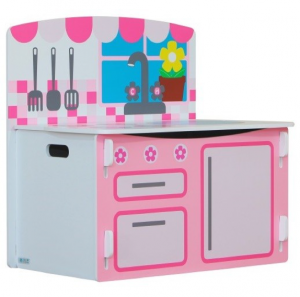 This pretty toy box doubles as a play kitchen, with a hob, sink and oven screenprinted onto an MDF surface. Your little chef will have hours of fun cooking up a storm, but clearing up will be easy as you just lift up the lid and file away the toys inside. Incredibly easy to assemble the Kidsaw Kitchen Playbox requires no screws, glue or tools, perfect for Christmas Day.
Kidsaw Kinder White Playbox
If you prefer a minimalist approach to furnishing your child's bedroom, this Kidsaw Kinder White Playbox will hit the spot. A stylish, simple and utilitarian design, it can function both as a play station and a spacious storage box. The lid lifts off, which means you don't have to worry about trapped fingers. Minimal assembly required, as the box just slots together like a jigsaw.
Kidsaw Pirate 9 Bin Storage Unit
This whimsical and vibrant Kidsaw Pirate 9 storage unit is painted with seafaring characters, including a cute parrot, to fuel your child's imagination. The unit holds nine fabric storage bins to help keep toys and belongings organised and tidy. We also stock a table and chair set from the same range by Kidsaw.
Kidsaw Owl and Pussycat Nine-Bin Storage Unit



Sometimes you just have to go pink. If your little girl's room is bursting at the seams with toys, games and half-finished projects, then this storage unit is just what she needs to smarten things up. The cute owl and pussycat design is a lovely addition, and there are nine pink bins for simple organisation of toys or even craft materials. Easy to assemble and manufactured from lightweight MDF. We also stock a bed and a table and chairs set from the same range.