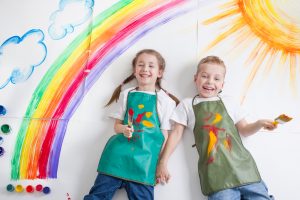 After the excitement and over-indulgence of Christmas, it always feels good to take stock of the past year and set goals for the new year during January. It's not just adults that can benefit from contemplating all the things we have to feel grateful for and reflect on what we'd like to improve or change; children can also reap the benefits of practising gratitude and planning new things to try.
Finding a new hobby for the new year can be a great way to build confidence for children and young people. In the current climate, children are spending far more time at home than usual and a new hobby could provide that much-needed diversion from screen time.
Trying a new sport is great for children, it gets them out into fresh air, gets them moving and all the family can join in. Kicking a football around the park or in the garden is a really cheap and easy place to start, or getting a bat and ball to practise the general skills for cricket is fun for all the family to play together. Playing sport can be tiring so having a good bedtime routine and a kids theme bed (or check our website for other cool children's beds) can encourage children to rest and recharge.
Reading books is essential for children of all ages. Reading is key to brain development in the early years and a positive start can build literacy and spark a lifelong love of books. A quiet space for reading is ideal for independent readers. If they have their own bedroom, a kids theme bed, such as the House or Tipi Cabin bed might encourage them to spend their downtime away from screens and instead lose themselves in a book.
For children who share a room, we stock pink bunk beds; add some fairy lights and fun cushions and each child has their very own book nook. Why not set them a challenge of reading a new book each month? Make a list together covering books they would like to read and see how many they can tick off over the year.
Our range of cool children's beds includes options incorporating a desk. With children needing to participate in homeschooling, having a quiet space to carry out their work can be essential. It can also double up as a place to practise a new crafting, drawing or painting hobby.
Spending time creating is an essential part of child development and equally something most children really enjoy doing. For younger children wanting a kids theme bed, we also stock separate desk furniture, which they can use ever more as they get older.