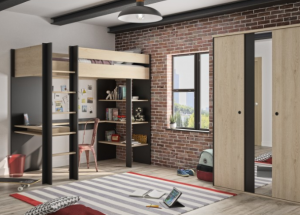 Are you redesigning your nursery to make it more suitable for your now grown-up toddler or child and struggling to choose between a wooden or metal bed? There are many pros and cons to both a children's wooden bed and metal bed, and we will go through just a few of these below!
The positives of a children's wooden bed
Children's furniture is traditionally made from wood, whether this is treated and sanded natural wood or painted wood. Painted kids' furniture must, of course, be painted with child-safe paint for safety reasons, to ensure that there are no hazardous substances on the piece of furniture.
Wooden furniture is indeed aesthetically beautiful and has a very traditional feel, especially when you consider a wooden high sleeper with its big yet pretty frame (some might say that this is less of an eyesore than a metal frame, however some may not have seen our stunning coloured metal bed frames!). You might like a simple structure or you may wish to look for one with pretty carvings.
A wood bed is also very sturdy when made from strong wood like timber, pine or even oak. What's more, with such a variety of options to choose from you can find wooden bed frames that range in price and therefore you will have no trouble finding one to suit your budget.
Choosing a girls white metal bed
When you hear the words 'metal' and 'bed' together, you might think of a dull, grey, shiny material. But metal furniture doesn't have to have that industrial look, unless you want it to.
Metal beds can be as beautiful as a wooden frame since they can be purchased in a range of beautiful colours and finishing styles, offering a lovely alternative to heavy and sometimes clunky wood, especially if you need something subtle to fill a space in a compact room. Modern metal frames such as red, green or black ones are very popular right now but a girls white metal bed is still the most sought after option, offering practicality, durability and also beauty. Metal is hard-wearing, even when professionally painted so you can expect a metal bed to last into your child's teens and simply adapt it to their ever-changing needed and tastes.
We hope that the above helps you to weigh up the pros and cons of choosing a children's wooden bed over a metal-framed bed, or vice versa.
As you can see, both offer some great benefits so it's really a case of doing your research and deciding which would suit your space and requirements best. Good luck!