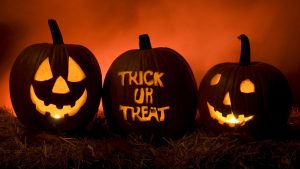 Thought Halloween was cancelled this year? Think again! Although trick or treating as we know it may be off the cards, you can still find ways to make this day of horror full of laughs for the whole family.
A different kind of trick-or-treating
If your little one is set on getting dressed up and walking the streets, why not use social media to ask your community to place pumpkins (or picture of pumpkins) in their windows for your children to spot. Each time they see a pumpkin on your walk, they could be allowed to have one sweet (provided by you) placed in their bucket. Just be sure to coordinate walks so that you and your neighbours aren't all out at the same time.
Using your tipi cabin bed as a movie/sleepover den
If, however, you don't fancy being outside in this cold and wet weather, then have you thought about being creative and setting up a Halloween-themed evening in your own home? With Netflix showing a number of child-friendly Halloween movies, you can't go far wrong. All you need to do is find a way to make a cosy (or creepy, if your kids are older) den to snuggle up in and job done! A kids' cabin bed is a perfect space for creating a little hidey-hole, plus they will love the idea of camping on the floor. For older kids, some sinister sounds playing in the background might make it even more of a spine-chilling experience.
Turning the tipi cabin bed into a spooky play space
Have you considered using furniture, like a kids' cabin bed, to create a Halloween role play setting too? If you are feeling imaginative, you could use old dark bedsheets or blankets to construct a make-believe abandoned house with no windows. With the nights setting in much earlier, it isn't difficult to create that eerie nighttime atmosphere. Using a torch and some other scary props, make up and dressing up outfits, you could play haunted houses and take it in turns to be the ghost!
Making games out of your cabin bed with slide
Does your child have a cabin bed with slide? Even better! You could set up some seriously fun modern day Halloween games, such as 'apple sliding' instead of 'apple bobbing', 'pin the nose on the pumpkin', 'wrap the mummy' and more. Be inventive while using the slide to take the enjoyment level up a notch. What's more, you could play with toys and slime, setting up a sea of slime at the bottom of the slide for the figurines to fall into and then have to escape from.
We hope these suggestions give you some inspiration for your 2020 Halloween celebrations. You can find more DIY Halloween ideas by searching sites like Pinterest, where people often share tips and tricks for your family to start making their own memories.