Children's bedrooms are generally smaller spaces and require parents to make the most of the layout of the bedroom to maximise its potential. High sleeper and loft beds are raised and have usable space underneath in the way of drawers or a wardrobe. These can be a great way of maximising space in a small room and children love the novelty factor.
Types of Bed
Beds are generally one of a few standard sizes in terms of width and length, but beyond that the height could be any size.

High sleepers are a great option if you are looking to increase the storage potential of your child's bedroom. The high sleepers are tall enough to have an integral wardrobe, a great space saving option. They also have a ladder as they are very tall and you couldn't climb into it without the aid of steps.


High sleepers are also known as loft beds and they raise the sleeping position to the height of a top bunk. With different styles available and various options for bedroom furniture you can create the perfect bedroom.
Benefits of a High sleeper Loft Bed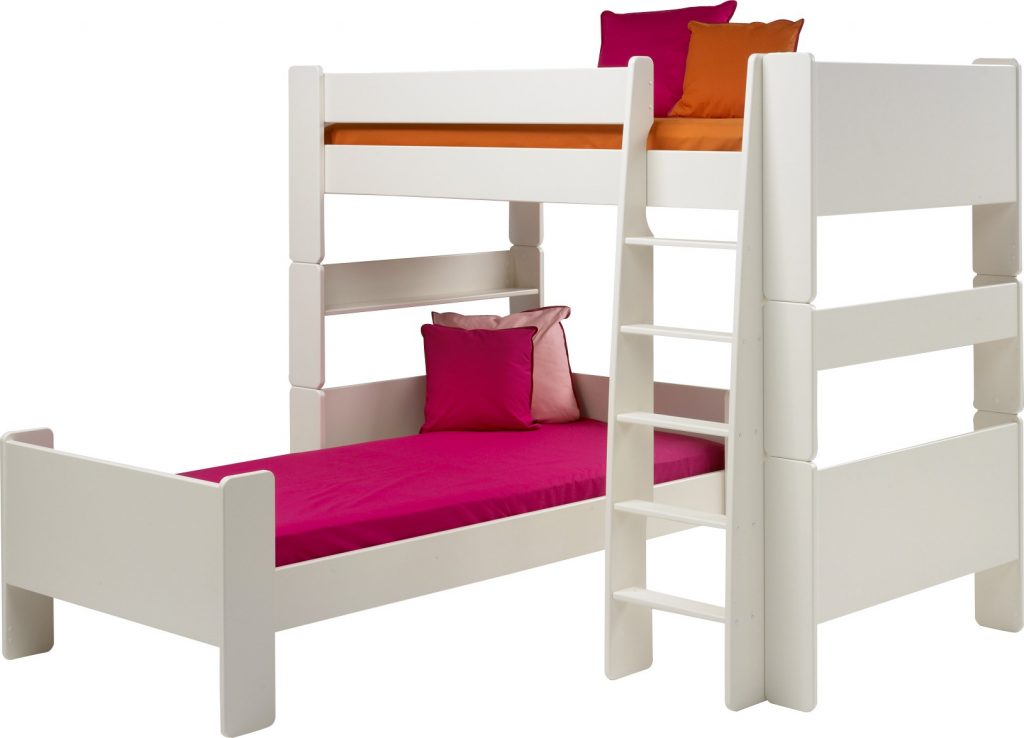 The biggest benefit is the space-saving and easily accessible storage. In a child's room, keeping the space tidy and toys out the way can be an ongoing battle, so having drawers integral to the bed can keep the room clean and tidy.
As families grow, with house prices also on the rise, finding space for everyone can be tricky. More and more families are finding they cannot afford to move or extend their homes, so people are increasingly turning a tiny room, such as a study, into a bedroom to ensure everyone has their own space. A Steens White highsleeper bed can be a great choice with the option to have a single bed underneath too.
Creating Space with a High sleeper Loft Bed


Opting for a high sleeper will create a bedroom that will grow with a child. Options can include a set of drawers, a wardrobe and even a desk - great for drawing and crafting for young children, and somewhere quiet to do homework for older children without the distraction of television or siblings. Some desks are static, and others pull out.
Use the space beneath the bed to help imaginations run wild! Depending on the brand and style you choose, the space can be filled with a low or tall bookcase, a low or tall wardrobe or a single bed!
Space for Playing
Depending on the size of your bedroom, the only limit to what you can do with your high sleeper is your imagination. Using the space beneath the bed as a play area can be adapted and versatile.
Additional Products
Plan your room carefully before you start. There might be scope to add in extra cupboards above the bed to complete the look and gain even more space. Think about the space and what you need it to do for you: could you incorporate another set of drawers to hold schoolwork. You might be able to add a TV or a shoe rack - go bespoke, and you can make your bed do anything you want.
Ultimately, a bed is only as good as its mattress, so be sure to look through all the options for a supportive mattress to suit the person sleeping on it. Choose the right bed early on and it will be able to grow with you, though remember to change your mattress roughly every eight years.