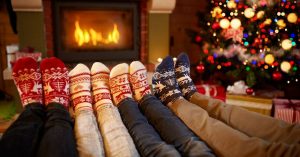 This year could be the perfect opportunity to start some fun new traditions with your family. There are so many ways to bring some extra touches of fun and sparkle to this festive time of year.
A good start is to think about what would work best for your family or where you have room for some new ideas. You may already know how the big day itself will run but would like new traditions for the run up to Christmas or for the days surrounding it. We have some fabulous ideas for families of all shapes and sizes.
Make the most of December with kids themed beds
If you love the sparkle and fun Christmas brings to a house then why not start a new tradition to put up your decorations on 1st December. A whole month of twinkly lights and glittery decorations will delight the kids and boost everyone's mood!
If your children are in need of new beds then the run up to Christmas could be the perfect time to get them ordered and set up. First beds for toddlers are an exciting stage and there are amazing options out there now. These range from versatile classic single beds to kids themed beds of all types. It is even possible to get a tent for your bed, allowing a whole new world of imaginative play for your child from their own bed!
Christmas Eve
There are some fantastic ideas for traditions on Christmas Eve. There are websites online where you can track Santa's progress across the world. Combine this with sprinkling some magic reindeer dust (glitter!) outside your door and your kids will be bursting with excitement.
First beds for toddlers can lead to some new traditions themselves. How about new pyjamas for Christmas Eve for the whole family? Cuddly new pjs and reading 'Twas the night before Christmas' before snuggling down in bed sounds like a lovely new tradition for Christmas Eve.
Remember to find the perfect spot on the new themed bed to hang the stockings too!
Christmas Day
Start the big day itself by helping the children open their stockings on their new beds. Then maybe you can think of a special breakfast as a new tradition. Pancakes? Bacon sarnies? Smoked salmon and cream cheese bagels? Lots of options and the kids could even be allowed breakfast in their new beds to make it an extra treat!
Boxing Day
For some people Boxing Day can feel like an anticlimax after the excitement of the previous day. If this is the case for your family then consider planning ahead. Pantomimes can be so much fun for the whole family or if your local football team are playing why not go and support them.
However you end up spending the festive period, a little planning can help make it magical for everyone.