Space in a child's bedroom is a precious commodity. You can tell them to tidy up their toys till you're blue in the face, but sometimes there just isn't anywhere left to put them. Here at Children's Bed Shop, we want to help you optimise the space in your child's bedroom, so we've concocted ten ingenious ways to help you with the organisation of what is probably the messiest room your house.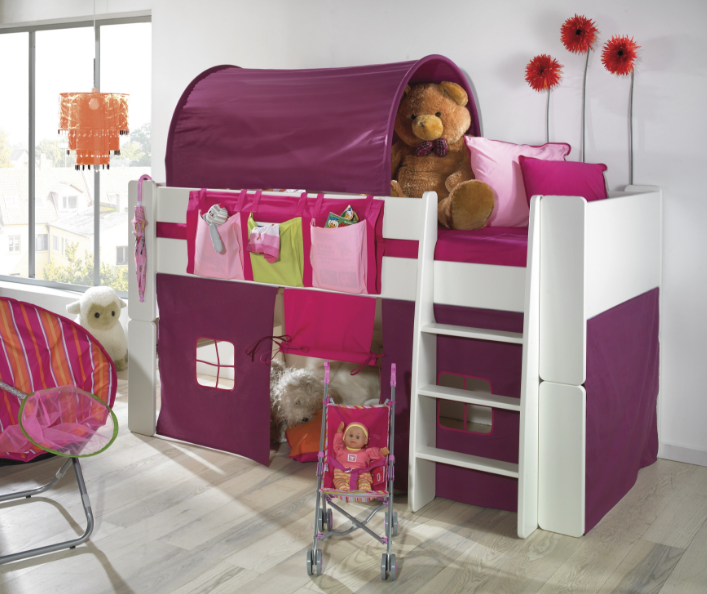 1. Set up a play table
You can have a focal point for your child's toys to be based around if you include a play table in their room, they'll also appreciate it themselves: whether it be a new track for their toy cars to race on or a lovely spot for their dolls to have a tea party.
2. Wall mounted shelves
Is there absolutely no space on the floor? Try kitting out the walls with a couple of shelves. You'll be surprised at the room this will free up when you move all those toys strewn across the floor and display them proudly on your child's new shelves – they almost pass as décor instead of mess!
3. Utilise that floor space
It's highly likely that the bed is the one piece of furniture that takes up the most space in your child's bedroom. With a space saving Steens high bed, this problem will be a thing of the past, with so much space underneath to play with. You'll be surprised at how much your child will be excited to shake things up and sleep just that little bit closer to the sky.
4. Find hidden treasure under the bed
Maybe you don't want to splash out and get a high sleeper bed, that's fine, you can just as easily make use of the space under a normal bed. Rather than just chucking everything under there why not store everything away tidily with a pull-out drawer on wheels for some easy access?
5. Colour-coordinate those Legos
As they are some of the most popular kids toys out there, it's probably a good guess that your child owns a few Lego sets. When they own a lot, it can become a veritable nightmare to build when they (or you) have to sort through a ton of bricks. Bring some order to your Lego collection by colour-coordinating all those bricks, it will probably save them hours trying to find 'the right piece'.
6. Make use of a peg board
A peg board can be a useful way to hang up anything that doesn't belong on the floor. It can also be used to display some of their budding artwork. Everyone loves the idea of their own little gallery, don't they?
7. Pack the wardrobe
If your child has a walk-in wardrobe, have you tried to fit a dresser in there as well? You'll find that there is a lot of space that can be freed up by utilising the room you can find in a wardrobe. Out of sight, out of mind, right?
8. Throw it all in a toy box
Probably the easiest option here, just invest in a toy box and lob all those toys in. You'll find it sorts itself when the toys that never get played with sink to the bottom never to be seen again.