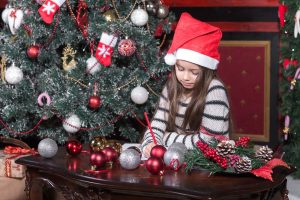 We all love a Christmas tradition. Whether it's a family trip to buy the tree or writing a letter to Santa, they help get us in the festive spirit and prepare us for the big day itself.
Here we list 10 Christmas traditions you and your family can enjoy year after year.
Advent Calendars
Whether it's a homemade calendar with scenes drawn by the children or a shop-bought one with chocolates behind each door, advent calendars are a great way to start the countdown to Christmas.
Why not buy a wooden one, which will last years? Calendars with little compartments where you can put your own gifts in let you change them every year to suit your children's ages.
Letter to Santa
Encouraging your little ones to write to Santa is always a good idea - not only does it get them practising their writing skills, but it also lets you know what they want!
If your child has a desk, lay out some pretty paper and nice pens and help them compose their Christmas wish list - don't forget the 'yours sincerely' at the end. You have to be polite!
If they don't have somewhere to write then a mid sleeper cabin bed with desk could be the perfect present. They can be a great option for storage solutions too with optional under bed drawers and wardrobes available.
Buying the Tree
Going as a family to choose a real Christmas tree is a tradition many families enjoy.
Whether you just go to your local garden centre or actually venture as far as the forest itself, there's nothing nicer than browsing among the lovely spruces and firs before deciding on which one is perfect for your home.
Putting the Decorations Up
When you've got the tree home, it's a lovely tradition to get the whole family together to put the decorations up. Getting them down from the loft, blowing the dust off and unwrapping the ornaments can be a wonderful way to enter into the festive spirit.
A nice tradition to start is one where you buy a new ornament for the tree each year - why not let the children decide on which one to get?
Wrapping the Gifts
Many people find buying Christmas presents a tedious and time-consuming chore, but wrapping the presents needn't be such as big job.
Get the family together one evening when there's nothing else planned, gather all the materials you need and prepare some refreshments to help make it more enjoyable.
To make it more fun, why not offer a prize to the person who, in the judge's opinion, wraps the prettiest present or does the best job with a difficult-shaped one?
Give to Others
A lovely tradition, and one which embodies the true spirit of Christmas, is that of giving some time to help others less well-off than yourself.
This could involve helping to deliver hampers to local old people's homes, working for a few hours at a soup kitchen for the homeless or even just contributing to your children's school panto, Nativity or Christmas fair.
Making this an annual event will help establish the gift of giving as part of your festive traditions.
Writing the Cards
Another annual 'chore' for many, writing cards should be a family affair. Make the kids write their own - provide refreshments and compete to see who can write the fastest!
Baking
Many people enjoy baking, and Christmas is a great time to get the oven gloves and mixer out of the cupboard.
Why not involve the children in making festive cookies or gingerbread men? Or let them help with the mince pies and Christmas cake?
Christmas Eve
A special time of year, whether you are religious or not, Christmas Eve should involve its own traditions. Whether it's sitting down with the family to watch TV, attending a local carol concert or visiting relatives, making it an annual event will mean it's more special and memorable.
Christmas Morning
And so to the big day itself. Many families have traditions on Christmas morning, such as opening the presents, listening to the carol service on the radio or helping to prepare the vegetables.
Just ensure it involves being with the ones you love on this special day.