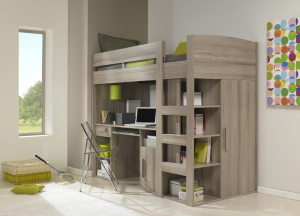 Buying furniture can be somewhat stressful. More stressful still, is buying furniture for your child's bedroom. You want them to feel like they have an opinion in what they're getting, after all: it is their bedroom. However, after dragging them around furniture store after furniture store they often can't be bothered and just want to go home.
It's a hard slog that leaves both you and your child frustrated. At Children's Bed Shop, we recommend doing all your furniture shopping online. Here are a few reasons why we think you'd be better ditching the shops for the desktops.
Convenient
We can't stress enough how much easier it is to do your shopping online. You are now able to shop around from site to site in a fraction of the time it would take to flit from shop to shop on the high street. No more wasted weekends dragging along a child that really doesn't want to be there, do all your shopping online in the comfort of your own home.
Competitive prices
You can compare the prices of furniture on many different sites with relative ease, imagine the difficulty of undertaking this task in person. We offer a price match guarantee! Which means if you find an item cheaper elsewhere, we will happily review our selling price*.
Delivery
Many of us have experienced the horror of buying furniture in-store before realising that we have to fit it into our car to drive it home. You can save the long panic-ridden drive home wondering if something is going to fall out the boot, by ordering it online. We offer free delivery to the UK Mainland* on all our beds, mattresses, accessories and bedroom furniture.
More choice
While showrooms are limited by space our website can show you everything we have to offer. Another positive is that we offer customisable options & additions to your purchase. The Gami montana cabin bed is a fantastic mezzanine bed with the option of adding bookcases, wardrobes and drawers to your order from the same range. It can complete the look of your child's bedroom. As well as this you could add a choice of mattress or a bed reading light. We really are spoiled for choice nowadays!
Customer service
Customer service is the cornerstone of any retailer, if you think that buying furniture online lacks that same kind of helpful support: think again. Our customer service team offer fantastic support as standard. Any queries concerning a product can easily be answered by email to a knowledgeable member of staff or call: 0191 654 2030.
*Terms and Conditions apply