When faced with the task of choosing a new bed for your child, bunk beds, high sleeper beds and loft beds are always a popular choice. Children love the novelty of sleeping in a bed that they have to climb a ladder to get into, and with the extra space for storage or furniture, high sleeper beds can also be a favourite with parents! Here at Children's Bed Shop, we have an amazing selection of high sleeper beds to choose from, and with styles such as the Steens high bunk and the Scallywag high sleeper, you're sure to find a bed you and your little one will love.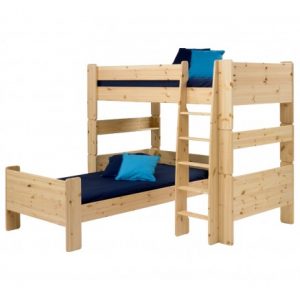 The Steens For Kids High Sleeper Bed and Single Bed in Natural Lacquer
The Steens high bunk is a popular choice at Children's Bed Shop, and the high sleeper and single bed in natural lacqueur is a great option when looking for a new bed for your child. This Steens sleeper comes with a matching single bed underneath, making it perfect for children that share a room, and is just as handy for sleepover guests!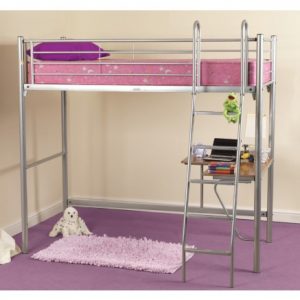 Sweet Dreams Opal High Sleeper Bed
With its sleek metal frame and simple design, the Sweet Dreams opal high sleeper bed is versatile enough to fit any child's bedroom. The bed comes with a desk underneath that's perfect for getting homework done, and has a sturdy mesh base and durable frame to ensure your child sleeps safe and sound.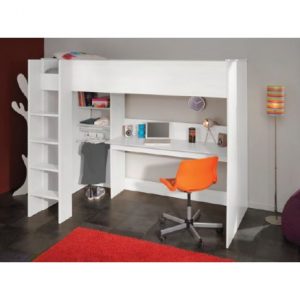 Parisot Swan High Sleeper Bed
Stylish, practical and fun, this Parisot Swan high sleeper isn't a bed to go unnoticed! This bed has a beautiful, modern design, and includes a built in desk, shelves and hanging clothes rail, making it an excellent space saving solution! The white finish means this frame is versatile enough for both girls and boys rooms, and will compliment any decor and colour scheme perfectly.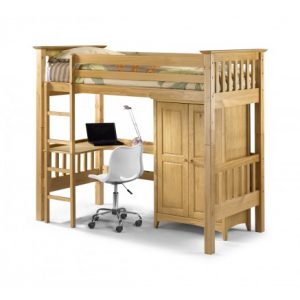 Julian Bowen Bedsitter High Sleeper Bed
For those who favour a more classic style, the Julian Bowen bedsitter high sleeper is one you won't want to miss. The frame is made from solid pine with an antique finish that will look great paired with matching furniture and wooden floors. This style also comes complete with an under bed wardrobe and desk, leaving your child's room a lot more spacious.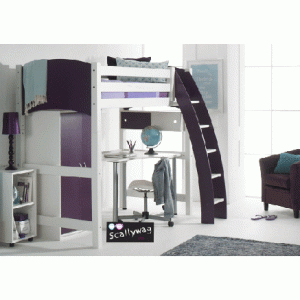 Scallywag High Sleeper
The Scallywag high sleeper is perhaps one of our most innovative and versatile beds yet, and it's not hard to see why. The bed comes complete with a wardrobe and desk, and is available in a wide range of colours. With the purchase of a modular extension kit, the Scallywag frame also has the option to be transformed into a single or midsleeper bed, making it ideal for those kids that can't quite make up their minds!