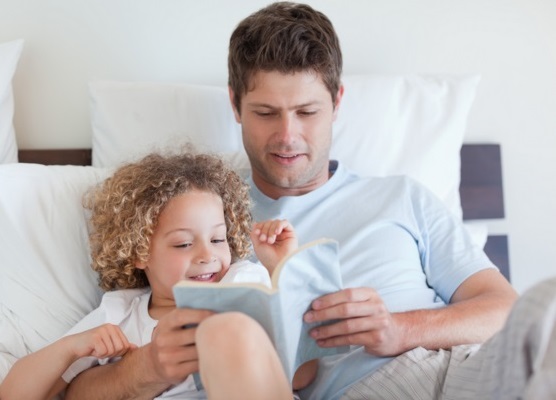 Most of us can remember being read to as children if we were lucky enough to have parents who recognised the importance of books. It was a special time cuddled up with Mum or Dad, just after bath time and just before sleep, when we snuggled into bed to hear a bedtime story. But there are many benefits to reading to children other than encouraging them to sleep.
Here are 10 important reasons why the Childrens Bed Shop recommends that you take time out of your day to read to your little ones.
1. Reading to children helps to build, maintain and strengthen the bond between parents and their offspring. And there is no reason why reading out loud to children should stop when they can read for themselves. Children's author Michael Rosen said his father continued to read to him when he was in his teens.
2. Studies have shown that it is especially good for children whose fathers read to them, because Dads often provide a different perspective when they read a story - they tend to focus on different aspects of a story. So it's important that both parents to read to children.
3. Reading bedtime stories to children also provides a sense of routine and discipline and establishes a family tradition that can be shared and remembered.
4. Reading helps with the development of emotional intelligence.
5. Studies have shown that children who are read to from an early age develop better literacy skills. It encourages development of spoken and written language skills, along with development of concentration, memory and imagination. Reading also encourages creative thinking, which helps in adult life, according to research into early child development.
6. Story-telling is a human tradition that has been enjoyed for thousands of years.
7. Being read to helps to develop a love of learning and expands the vocabulary. Students whose parents read to them when they were little often do better at school.
8. Reading also helps with the development of social skills, as most stories have a moral. Opportunities to discuss issues with children without preaching or nagging can be opened up through reading a story.
9. Importantly, reading to children makes them feel safe, secure and loved.
10. Reading helps children to unwind at the end of the day and can improve quality of sleep.
However, having a comfortable bed to sleep in, and an area that is all your own, is also important. That's why the Children's Bed Shop is so popular. We produce fun beds that encourage their imagination.